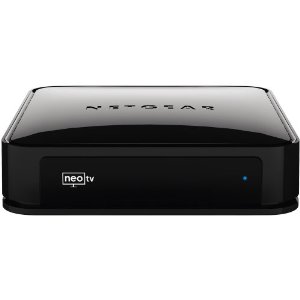 Once I finally hooked up this NeoTV Streaming player from Netgear, I was kicking myself asking why I waited so long! Though, I'm sure my husband is happy that I'm finally caught up on Vampire Diaries so he can get back to watching sports on the bedroom television. It was much easier than I had anticipated to set up so there was really no reason for me to procrastinate. Set up took less than 10 minutes and you will need to know the information to connect to your wireless router or be able to directly connect into your internet.
If you don't have a streaming player, the Netgear NeoTV Streaming player is working out very well for us and allows us to watching Netflix instant streaming movies practically instantly on our television. In the past, I had limited myself to Netflix (one free month here) on our tablets, which is such a small screen and if you want to watch with multiple people it is a little difficult. This easy to add to your television allows you to maximize your Netflix subscription.
We haven't been able to take advantage of the HDMI cable due to an older television in the bedroom with only one HDMI video slot.  HDMI cable is not included with the package so you will need to provide your own or purchase one if you want to be able to watch in high definition.  Though, I've been pleased with the quality of the videos I have watched. Like I said, I caught up recently on the last three seasons of Vampire Diaries. Having been a former Buffy/Charmed/Angel watcher, I finally discovered this show and it was nice to be able to watch it on the television via Netflix while there weren't as many new shows to watch this summer.
Along with Netflix, you can connect to Hulu Plus, Vudu, Youtube, Pandora, and more. It comes with a remote control but you can also set up your iPhone, iPad, or Android device to be a remote with the free remote control app.
The Netgear NeoTV streaming player is priced at $49 and would be make a great gift this holiday season.
Read more reviews from Bargain Briana or at the Buzz by Bargain Briana.
Product was provided by Netgear in order to facilitate this review. Post was written 100% by me and was not edited by the sponsor. Read more on my Disclosure Policy.