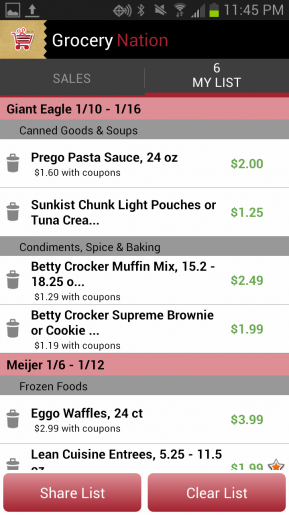 I wanted to let you know about the new Grocery Nation app that just launched. DealPros (that's me) in Ohio and Indiana are sharing the best sales and coupon match-ups for your local grocery store and it's now available on your phone!
With the Grocery Nation app you'll be able to:
See all the sales (including unadvertised deals) and coupon match-ups for your local stores.
Quickly find items that are at rock bottom prices so you can stock up.
Create a shopping list and email it to yourself or even share it with your friends.
All on your phone!

The Grocery Nation app is currently available in Indiana and Ohio for Android phones and I'm excited that so many of my local readers have the opportunity to be the first group to take advantage of this free grocery app.
If you shop in Indiana or Ohio and use an Android phone I'd love for you to download it and see how much it can save you on your weekly grocery budget!
Just click on this link to visit the Grocery Nation website. You can download the Android app or leave your email to be notified when it launches on the iPhone.
You can learn more about the Grocery Nation app as well has many other strategies to save at the grocery store at my next Grocery Savings Workshop.
I hope to see you there!