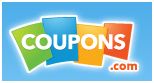 New month, new coupons from our favorite printable coupon sources. You will want to print out coupons you know you will need before their limit is reach as the coupons have a total print limit as well as individual user print limits.
$0.55/1 Wonder Bread
$1/2 Post Cereals at Rite Aid
$3/1 Maybelline Pulse Mascara
$1/2 Hellmans
$0.75/1 Cocoa Puffs Cereal
$1/1 Cat's Pride Kitty Litter
$2/2 Pull ups Flushable Wipes
Several LeapFrog printables!
$1/1 Morton's All Season
$30 at Midas
$10 at Dave & Buster's
You can read about how to save on ink while printing these fabulous coupons in my previous post "Tips for Printing Internet Coupons."
Make sure to enter in your zip code as you may have access to more coupons.
$1/1 Success Rice
$1.50 Kellogg's Frosted Mini Wheats
$0.75/1 Sara Lee pre-sliced lunch meat
$1/1 Clorox 409
$0.40/1 Welch's fruit snacks
$0.35/1 Domino Sugar 2 lb. +
$1/2 Quaker Grits
$1/1 Alavert
$1/2 Quaker Chewy Bars
$1/2 Ballpark franks
$1/1 Thermacare 2 ct. +
$1/3 Del Monte SuperFruit Naturals
$1/1 Stayfree product
$0.50/1 Kellogg's Yogos

SmartSource.com printable coupons are now available to print right here without leaving the BargainBriana.com website! Below are some of my favorites:
$0.75/1 

any Frosted Cheerios, Fruity Cheerios, Apple Cinnamon Cheerios, Banana Nut Cheerios OR Yogurt Burst Cheerios Cereal
$1/2 Hershey Bliss
$1/1 Jose Ole
$0.50/1 Bob Evans Breakfast Sandwiches
$1/1 Axe Body Wash
$0.55/1 Metromint
Be sure to check out & activate the new eCoupons from Upromise for the month too!