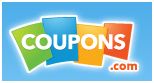 First to save money on ink, I suggest setting your print settings to fast print, draft quality or something similar worded. I usually print mine in black & white to conserve my color ink. Internet printables are acceptable in color or black & white. If you want to change your default print settings (windows), Go to "Control Panel", click "Printers", then right click your printer and choose "Printing Preferences." Here you can change the quality to fast draft or quick printing.  Your printer may have different wording depending on the model/brand. This will change your default settings.
Are you having problems printing internet coupons or installing the coupon printer for coupons.com? Your first step would be to contact coupons.com and check out their FAQ.
I sometimes have problems too so I will try a different browser. If I'm using Firefox, I will try Internet Explorer and vice versa. Clear your cookies and your cache. Lastly, if everything else fail, run a virus and spyware check to make sure you don't have anything else going on with your computer.
Here's a few tips to help you print these coupons:
1. Do you have permission to download programs on your computer? Are you using software to block the installation? If you are at work or a public computer, you may not have permission to download programs. You will have to try to print at home if this is the case. If you have a software blocker, just allow the coupon printer to download and follow the instructions.
2. Check your internet settings. You may get that little pop up box asking permission to download because your browser security settings are high. Say yes, coupons.com is a trusted program.
3. What operating system are you using? What browser? Coupon printing is currently supported on Windows Operating Systems Vista, XP, and 2000 when used with Internet Explorer 6+, FireFox 1+ Netscape 8+, and most MSN and AOL browsers. Sometimes I find I can't print in Firefox. I cut and paste the url of the coupon in Internet Explorer and it will print. Try switching browsers. Sometimes this works.
4.  Program is installed but coupons still won't print. Make sure you have a default printer set. It can not be a fax, file printer, or PDF maker. It has to be a real printer. Make sure "Keep Printed" option is not check. (Control Panel>Printers>Right Click Default Printer>Choose Properties>Advanced tab).
5. Tried printing and it tells me coupon print limit reached. Sometimes you have already printed the coupon the maximum number of times allowed. Or if you are on a network or public computer, someone else has printed it.
Hopefully, these tips will help. If all this still fails, go back to the site where the coupon is at and request a coupon by mail or ask a friend to print the coupon for you.
If you have any other tips, let me know in the comments.