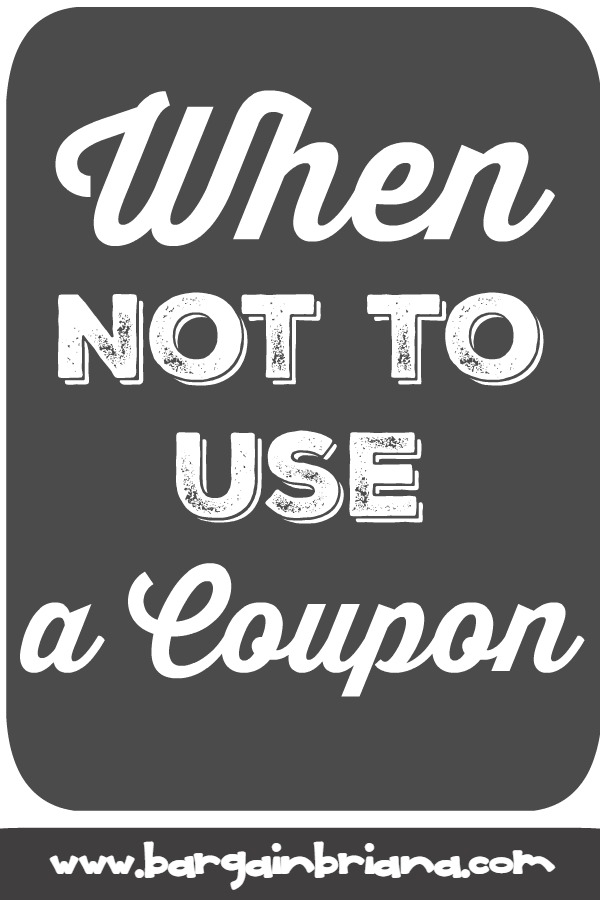 While we would normally say use a coupon for everything you can, we want you to know When Not To Use A Coupon as well.  While it is rare, there are situations when using a coupon just isn't the best idea.  A few simple things will help you to know when coupons are a good idea and when they are a bad idea to use.
When Not To Use A Coupon
When the coupon is expired.  There are a very limited number of stores that allow you to use expired coupons.  As a general rule of thumb, expired coupons are something you simply shouldn't use at all.  Instead, send them to military personnel stationed on base overseas where they are known to be accepted for up to 6 months past expiration date in the base commissary.
When the coupon doesn't apply to the product you are purchasing.  If the coupon doesn't match what you are buying, it is pretty easy to know you should not be using that coupon.  No matter how close it is, if it isn't a match – it isn't usable.
When the generic product is cheaper than the brand even after the coupon.  Never use a coupon to purchase a brand product when the generic is cheaper even after coupon.  There are instances when you are brand specific and prefer it over the generic.  In that case, feel free to use the coupon on the more expensive item.
When it is for an item you don't need or cannot use.  Sometimes the thrill of the experience gets you excited.  It can be tough to not use a coupon when you know you can get it for such a great price.  If you cannot or will not use a product, don't use the coupon for it. Instead give those coupons to a friend who can use them.
While couponing is indeed our passion, we have to admit there are times that you should know when not to use a coupon.  While not every purchase is a good deal for every person, not every coupon should be used.
Looking for coupon matchups? Find all the stores we cover here at the Store Coupon Matchups Page. Need coupons? Print out coupons for all your favorite products here.
Did you enjoy this post? Find more money saving tips here.