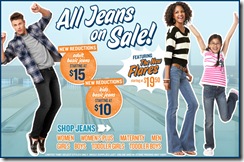 You can get up to 30% off your Old Navy purchase. When you land on the OldNavy.com site, you will see a banner which will give you a code for 15-30% off!
In addition, during the Old Navy Jeans Sale, you can get jeans starting at $10 for kids or $15 for adults. This is available in stores and online. We took advantage of this sale even though we don't quite need jeans yet because it was too good to pass up! We also picked up some $6 t-shirts for our youngest!
Shop OldNavy.com through ShopatHome.com to score up to 13% cash back!