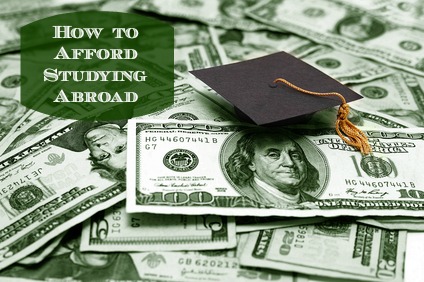 Studying abroad can be an exceptional experience, yet a program's price tag can be monetarily prohibitive. Whether your child prepares to volunteer in South America or looks forward to visiting China to practice Mandarin, the costs of these programs can be exponential. Paying for an academic experience abroad serves as an investment into your student's future though, and by taking a few clever steps, you can turn this opportunity into a reality.
Eye-Awakening Experience
While studying internationally, teens have the opportunity to increase their global awareness, learn a new language, and get to know a host family. Experiences will push their boundaries as they learn in a multidisciplinary environment. They'll get the chance to experience worldly cultures and even help make the world a more positive place. In addition to personal and academic benefits, the journey will also stand out on college application essays and even catch employers' eyes.
According to AFS USA, a nonprofit organization that organizes study abroad opportunities for high school students, college admissions are more competitive than ever, and when your child has a study abroad opportunity on their transcript, it will set them above the rest.
Financial Deception
Spending thousands of dollars to send your child abroad can be monetarily intimidating for most families. Take a closer look at the numbers, and you may discover that it isn't as expensive as you think. According to the US Department of Agriculture, the average middle class family spends $33 to $39 per day raising their children. A $13,000 yearlong study abroad opportunity to Japan equates to $36 per day.
Essentially, your investment now could help land college scholarships. Your child may even earn extra credits for testing out of their college language requirements. Best of all, students with a study abroad background tend to know where they want to put their focus academically. Focus helps avoid changing majors, which can speed up their college career and save you cash in the long-run.
Packing & Savings
A study abroad experience isn't a luxury vacation, and your child only needs the bare necessities. You have no reason to buy them an expensive GPS or anything other than a backpack and few changes of clothes. Keep in mind that as parents, you'll want to keep in touch. You can save money on your end by installing an affordable DSL connection, which is perfect for streaming videos and chatting with loved ones, according to www.dsl.com. Your child should easily be able to chat with you from a local Internet cafe, or you could even send an international cell phone with them.
Carefully Chosen Programs
Programs vary financially so researching options can help with family savings. All-inclusive programs that include your child's airfare and pre-arranged meal plans are often more expensive than a la carte programs. Traveling to inexpensive third-world countries may cost more in airfare than flying to Europe, but once at the destination, your child will have a cheaper cost of living. Don't overlook tuition and housing. An independent study program may be cheaper than attending a local school, and staying in a dorm may be more expensive than living with a host family. If you're up for having your own experience, research programs that trade children with another family — options like that can really help bring the final cost down.
Did you enjoy this post? Find more money saving tips here.