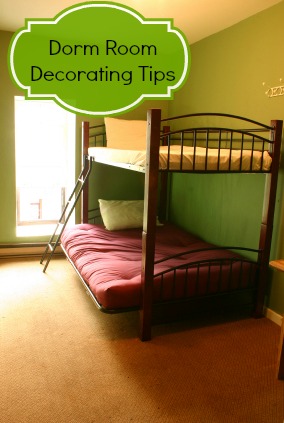 For college students, heading off to college can be a bit overwhelming, emotional and exciting all at the same time! Take the guess work out of door room decorating with these Dorm Room Decorating Tips to make the tiny space feel like home for the next 9 months.
If you are able to get to know your room mate before the big move in date, be sure to do so. This will allow you to discuss your tastes and decide what each roomy will be bringing. By communicating with your new bud, it will ensure there's not multiples of the larger items and allows you to coordinate the décor in your room.
Liven up those boring dorm room walls with bright fabic that is mounted inside a $1 picture frame, choose bright colored curtains to hang from either the windows or the walls to soften up the look. Also consider purchasing a area rug to make the floor move inviting and cheery!
If you haven't checked out WallPops.com this is the time to do so! These super cool peel and stick decals are great for any dorm room as they will wake up the space without ruining the walls. Not to mention, you can change them out for different looks as the year goes on. I"ve used these in my own home and LOVE them!
There's not much room for cute picture frames as there's limited counter space. To display photos of friends and family be sure to purchase a few Peel and Stick Picture Frames from TheCompanyStore.com. This is a super fun alternative to the traditioanl picture frames. This will allow you to create a photo wall that can be removed easily incase you want to change out photos often or when leaving the dorm!
When it comes to bedding you may consider picking up hypoallergenic products. These will help to eliminate dust mites, bed bugs and any other unwanted dirt and bacteria. There's some great Allergy products that are offered at TheCompanyStore.com at very affordable prices!
Staying organized in a dorm room can be pretty tricky. You can pick up a chalk board and dry erase panels from WallCandyArts.com which are great for any dorm room! These are also super cool for hanging on the dorm room door for those new college friends to write messages on while you are away at class!
What are some of your favorite dorm room decorating tips?
Did you enjoy this post? Find more money saving tips here.