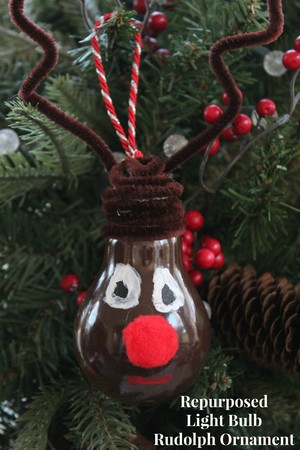 I love this ornament idea as it combines repurposing with crafting! Just be sure to save an old light bulb before they are banned!
Rudolph Light Bulb Ornament
SUPPLIES
Incandescent Light Bulb
Ribbon
4 Brown Pipe Cleaners
Red pom pom ball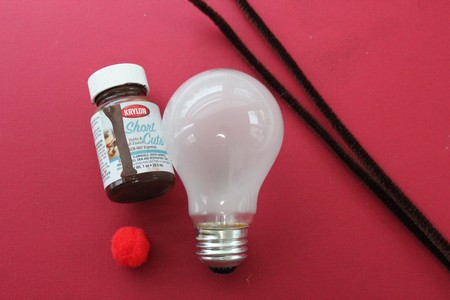 Directions: 
Paint bulb brown. Allow to dry.
Paint White ovals for eyes. Allow to dry.
Paint black circles for eye pupils. Allow to dry.
Fold a pipe cleaner into a V and glue on back of light bulb to threads (this will become antlers). Make bends in the antlers on each side.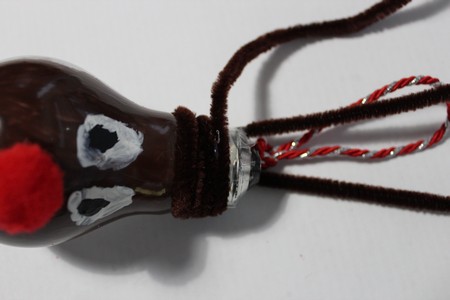 Tie a loop in a piece of ribbon and glue to threads on bulb (Wrap with tape while it sets).
Glue pom pom ball on as nose.
Begin wrapping pipe cleaner around threads. As you get near end of each, twist it together with another pipe cleaner to continue wrapping. when you get to end you will need to lay a bead of glue all around the end of the base to hold pipe cleaner in place.
Allow glue to dry before hanging.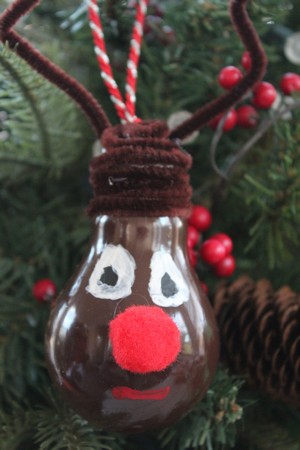 Find more ways to save on Holiday Decorating!
Did you enjoy this post? Find more money saving tips here.