Are you headed out on Black Friday armed with an iPhone? If so, you will want to download these handy iPhone apps to make Black Friday run a little more smooth.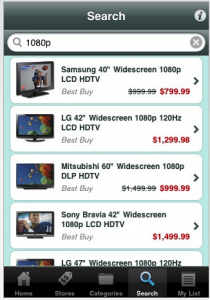 With TGi Black Friday, you browse the ads, check out the popular deals, search the ads for the lowest price, and even create your own list.
Black Friday Ads from popular retailers
Ability to email your shopping list or a specific deal to others
Compare prices across ads
Price: FREE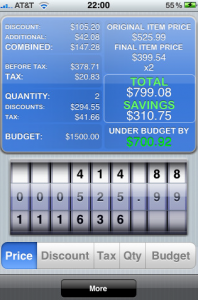 $ Checkout allows you to figure out your final cost after all discounts are applied and tax is added. You can even set up a budget for your shopping. Handy for those get addition percent off items that are X percent off!
Simply shake to reset!
Price: FREE
Shop Amazon and compare straight from your iPhone with the Amazon App. I recently used this to save on a laptop cooling pad when shopping at Kohls. I compared the price at Amazon.com, found it to be lower, and ordered from Amazon while standing in Kohls. You can also take a picture of something you see while you are shopping, then send it to Amazon through the app to find that particular product or similar products.
Price: FREE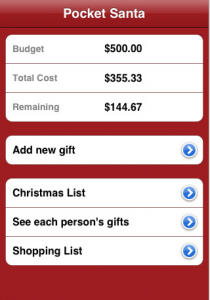 FREE eCookbook with over 55 pages of Fall Recipes for iPhone will allows users to track holiday spending as well as keeping your holiday list in order. Track gift names, description, price, status, who will receive the gift, and much more.
Price: $2.99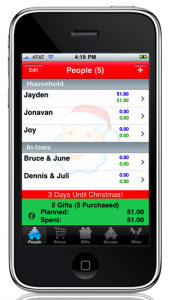 You can download Santa's Little Helper free for the first two gifts. If you like it, you can upgrade for $0.99. With this app, you have the ability not only to create gift lists for receipents but create groups to better organize your holiday giving. You can budget your spending with the tracker as well as email the list you've created.
Price: $0.99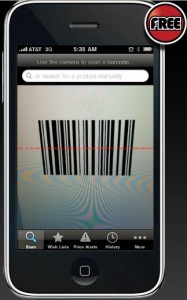 ShopSavvy also has recently released an iPhone version of their app. Compare prices by using the built in camera feature to take a picture of a product's barcode. Once scanned, the ShopSavvy will search locally using your location and online for the best deal. You can watch the video review I did on the Android version last year.
Price: FREE
Be sure to check out this list Cnet has compiled of Store Specific iPhone Apps. Includes: Barnes & Noble, Target, Toys 'R Us, Walmart, and more!