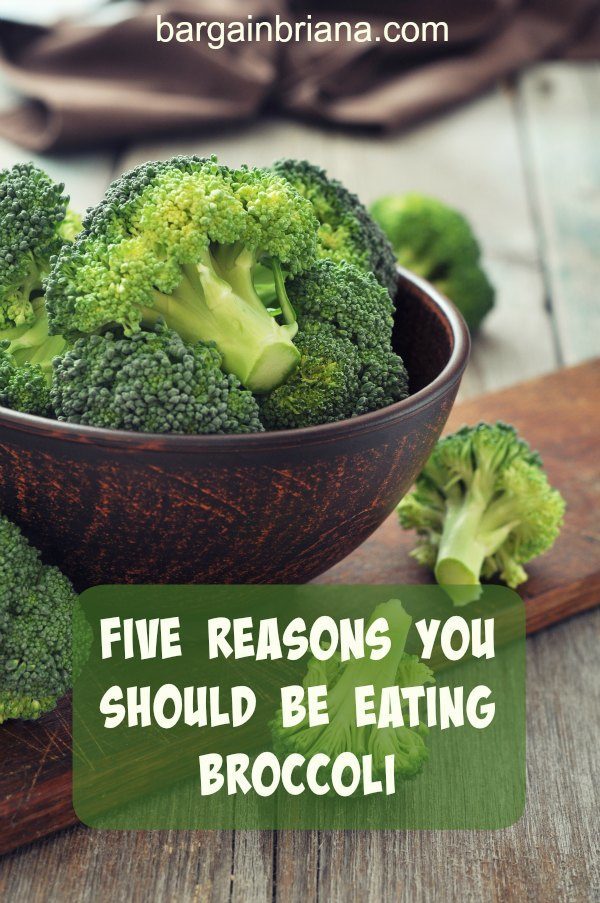 Do you love broccoli? This great green veggie is not just a delicious snack or addition to a meal, it's packed full of healthy goodness. You really should be eating broccoli, and here are five reasons why.
Anti-Inflammatory
Aching joints and other conditions that cause inflammation (arthritis, gout) is one reason why broccoli should be on your plate. Broccoli is packed full of kaempferol — a flavonoid that has natural anti-inflammatory properties. Eating broccoli can ease that paint in your joints.
Plenty of Fiber
Eating broccoli will add fiber to your diet since this veggie is loaded. Fiber helps you feel full and will also keep your body regular and in proper functioning order. Are you watching your weight? If so, then broccoli is the perfect choice because it will keep you feeling full and satisfied for longer periods. A broccoli snack will keep you going much longer than most other snacks, making it a perfect choice for healthy eating and shedding those pounds.
Eye Health
Broccoli offers great things for the health of your eyes. This veggie contains the carotenoids lutein and zeaxanthin. Both of these contribute to the health of your eyes. Weak eyes or vision issues can benefit greatly from a diet containing broccoli — and your eye doctor may even recommend this vegetable to improve the health of your eyes.
Lots of Vitamins
Vitamin D is necessary for the absorption of calcium in your body, which is of course needed to build strong bones. Vitamin D also helps with your mood and energy level. Vitamins A and K are vital to your body's absorption of Vitamin D and broccoli is loaded with Vitamins A and K. Eating broccoli will help you absorb Vitamin D and put it to good use.
Prevent Heart Disease
Remember the lutein that broccoli contains? It's good for more than just your eyes. Lutein helps keep your arteries open and your blood flowing properly. These processes are very important in preventing heart disease.
Adding broccoli to your diet is a great way to reap some serious health benefits. In addition to all the other vitamins and veggie goodness, broccoli is rich in Potassium, which can help stave off muscle cramps and fight against high blood pressure. Broccoli is packed full of so many vitamins and nutrients that it's a great food choice to improve your overall health and well-being.
Whether you're trying to lose weight, improve the health of your eyes, or fight heart disease, broccoli is an excellent food to eat. Broccoli has so much to offer that you just can't pass it up — try some today and enjoy all the benefits this yummy green vegetable can give your body.