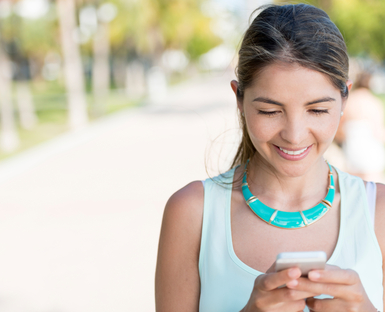 While the smartphone salesperson may be trying to sell you on the bells and whistles of the latest models, don't let those be the only consideration when you're buying a new phone. Learn what to ask at the cell phone shop to narrow down your options, get the best value for your money, and ensure you'll be happy with your new phone long after you leave the store.
1. Begin with the carrier
Unless you plan to switch mobile phone carriers to select a certain model, begin with your cell phone carrier. You'll find a range of Android and iOS devices on the major networks: AT&T, T-Mobile, Verizon and Sprint. If you're already not tied to a carrier, use independent carrier maps, such as those from RootMetrics, to evaluate which carriers offer the best service in your area. A suped-up phone isn't worth the extra money if it doesn't work near your home.
Also, check whether these carriers support the 4G smartphone network and LTE technology. If this technology isn't supported, your new phone won't be able to run as fast as the specs promise. This frees you up to either purchase an older model or wait until the 4G network near you is stronger. Finally, research how much data plans cost, and purchase according to your needs.
2. Select the operating system
Across carriers, your four major model choices are iPhone, Android, Windows Phone and BlackBerry. Each has pros and cons.
Android offers devices at many sizes and price points, but updates to the OS come slowly, and malware can be a problem.
IPhones are easy to use and still a popular choice, although the built-in Maps utility is still not as robust as competitors' maps.
Windows Phones mimic the look and feel of Windows 8— either a pro or con, depending on your views on this operating system— and have a limited number of apps.
BlackBerry's phones are less robust than their iOS and Droid counterparts, and their app store is missing popular apps such as Netflix and Instagram. However, these phones are still popular options in business circles because of their BlackBerry Messenger capabilities and may be convenient for those who are already used to using BlackBerrys.
3. Research specs
Without good battery life, data plans and storage space, your smartphone is of limited use. Once you've narrowed down the options by carrier and device type, compare the specifications of common models. A faster processor is important for gaming, while a larger amount of RAM is a must if you plan to store videos. In general, iPhones and Androids have better specs for features such as these, while Windows Phones and BlackBerrys are less advanced. Don't forget to test out holding and typing with the device to see whether it feels too large, too small or just right.
There are a lot of efficient smartphones out there, but rushing the buying process could leave you with a phone that is too small for your storage needs, too slow for your gaming needs, or too light on the apps you wanted to use. By keeping these three tips in mind, you can ensure the phone you purchase is the right phone for you.
What is your preferred phone brand, and why? Share your thoughts in the comments.