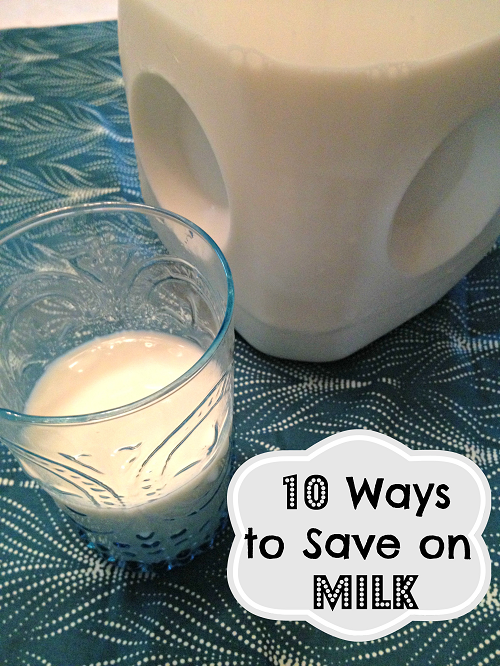 The cost of milk seems to be rising each day, with a gallon costing as much as $4.00 in some areas. Milk is a healthy and tasty addition to our diets, and so it is not something you want to sacrifice because it does not exactly fit into your budget! So what should you do? The good news is, there are plenty of tips and tricks you can follow that can save you a few cents on your gallon of milk. You don't have to give up milk just because prices continue to climb. Instead, just give these tips a try and see how easy it is to buy that gallon of milk for less.
Before you run out and buy your own cow, take a look at the tips below. When you are done, we have also included links to companies that offer money saving coupons valid on some of your favorite milk products.
10 Ways to Save on Milk
Look for Free Gallon Coupons
Many times, there are coupons floating around for free milk when you purchase another item. For example, free milk when you buy Cheerios, or free milk when you buy Oreo cookies. Keep your eyes peeled for these coupons, often found on packages or in your Sunday paper.
Find those Coupons
Visit the websites of your favorite milk and dairy brands and see what savings may be available. Many of them have printable coupons right on their website or you can always email and request them. To get you started, we have even included a few links below. You can also use Ibotta to earn cash back on your milk purchases almost weekly!
Use Powdered Milk in Your Baking
The thought of powdered milk may make you cringe. But the truth is, it costs just pennies a gallon to whip up. While you may not be able to stomach the idea of drinking it, you can always mix it up and use it in your baking recipes. You won't be able to taste the difference but your wallet will sure notice a difference.
Price Match
Just as you price match cereal and soup, price match milk if you can. It seems as though at least one store a week offers a special on milk, so make note and price match during your next grocery trip.
Freeze Skim Milk
If you see skim milk on clearance, stock up. You can always freeze it and use it later in your cooking recipes. Just store it in an airtight container and thaw at room temperature when needed. You can only do this with skim milk, as any other variety of milk will not freeze well due to the fat content.
Don't Buy Name Brand
Unless you have a coupon of course, avoid buying name brand milk. Instead, buy the generic or store brand. You can easily save at least .50 cents off of your gallon and it will taste the same.
Check Prices at Your Local Gas Station
Convenience stores have ridiculously high food prices, but oddly enough they typically have milk priced lower than your local grocery store. Check out your local gas station or convenience store to compare prices of milk to that of your grocer. You may be surprised!
Check the Dates.
Don't let milk go to waste. If it is nearing expiration, use it up in your recipes or freeze it per the directions mentioned earlier (if skim) so it can be used later. Pouring milk down the drain is like pouring money down the drain.
Join Swagbucks
How on earth can Swagbucks help you save on milk? Well, when you spend a few minutes a day taking Swagbucks surveys, you can earn points redeemable on gift cards to retailers such as Walmart and Target. If you don't have any milk coupons, you can use your gift cards to purchase your dairy items instead.
Use Your Store Loyalty Card and Watch Those Catalinas!
Many times, stores will offer milk coupons and discounts with the use of your store loyalty card. If you buy milk often, keep an eye on the Catalina machine where milk coupons may very well print out for you!
As you can see, these ten tips and tricks are quite easy to try and can very well save you on your next gallon or two of milk. By following these tips you will be able to buy your milk for less and make sure you are using it in a way that stretches your food budget best. So forget buying a cow, these tips are much easier.
Now, visit these sites where a slew of milk and dairy coupons and savings are waiting for you!
How do you save on milk? What is your current price you are paying?