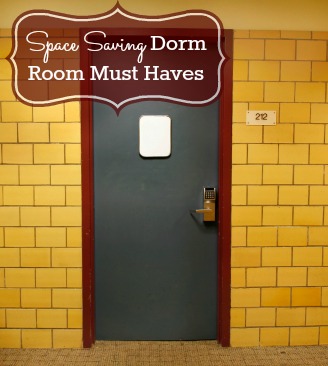 While many parents are beginning to feel a little empty as their child is heading off to college, students welcome the change with open arms! If this is your first experience with decorating a dorm room there are quite a few of space saving dorm room must have items that you'll want to pick up before helping your child decorate those boring white walls!
The first essential space saving dorm room must have are removeable hooks from 3M. Purchase a multi-pack at Amazon.com or Target stores for less than $10. You can place these on the walls, on the back of the door or in the closet! These little space savers will allow you to hang towels, jewelry and clothing on in the most random places!
If you have a basic desk with no storage on the top be sure to purchase a shelving unit or organizer shelf to place on top of the desk. You'll want to measure the desk to ensure you get a correct size to fit length wise across the desk. You can pick these up at your local Target stores for under $30.
What college dorm room isn't complete without a dry erase board! WallMates offers several sizes of dry erase boards that are peel and stick. Not to the company also offers weekly, monthly and yearly planners to help keep organized!
If your bed in the dorm room has room for under bed storage, take advantage of this area! TheCompanyStore.com has beautiful woven baskets that are a styllish way to keep organized. This is a great place to keep extra toiletries, bathroom supplies and linens.
Creativity is key when it comes to dorm rooms! For instance, by stacking your DVD/TV combo on top of your microwave or mini-fridge will allow for extra space to be used for other items.
When putting clothing pieces away hang multiple pants on a hanger and hang shirts from one another. When shopping at your favorite retailer you may want to consider picking up a hanger cascader. This allows to save space in your closet. In addition, bring the essential clothing to the dorm and keep everything else at home. You can always grab new pieces when you head back home for visits!
Now that you know what dorm room must haves you'll need before arriving to the dorm leave a comment with how you got creative with your room!
Did you enjoy this post? Find more money saving tips here.