This recipe is so delicious that I had to skip it ahead of a few others in my recipe posting queue! I used this Spinach and Sun Dried Tomato Pasta recipe from All Recipes and added and removed a few things based on what I had in the pantry.
Spinach, Mushroom, and Sun Dried Tomato Pasta
Ingredients
1 cup Vegetable Broth
20 Sun Dried Tomatoes (I used packed in oil)
Olive Oil
Minced Garlic or Clove of Garlic
Ground Cayenne Red Pepper
Mushrooms (not pictured above because I decided to add them in the middle of the recipe!)
Spinach, bunch (or a 3-4 handfuls of baby spinach leaves)
1 cup Grated Romano or Fresh Grated Parmesan (Again, love the Ninja Chopper!)
Pasta of your choice (I used ditalini)
I will apologize in advance for my lack of exact measurements. When I cook, I usually just add things until it looks or tastes right.
If you use Sun Dried Tomatoes packed in oil, you can skip this step. If you use the packaged kind, you will want to boil 1 cup of vegetable broth. Remove from heat. Place your Sun Dried Tomatoes in the broth for around 15 minutes. Then coarsely chop. Reserve the broth to use later in the recipe.
Go ahead and cook your pasta according to the directions. I used Ditalini Pasta as this is what I had on hand. I think that Penne, Angel Hair, or Linguine as well as many others would work well too. I like the Ditalini because it is cute and is a little firm.
With a tablespoon or so of Olive Oil, sautee the mushrooms along with the minced garlic. Add a few teaspoons of Ground Cayenne Pepper to your taste. I kept just kind of pouring it on so mine was quite spicy but not overwhelming.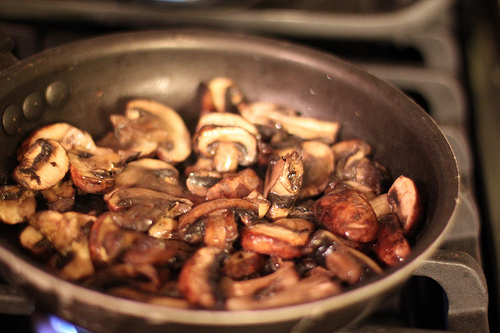 Add the spinach and cook until wilted. I kept adding spinach as it takes up quite a bit of space until you start cooking it. I felt like 3-4 handfuls of baby spinach was a good amount.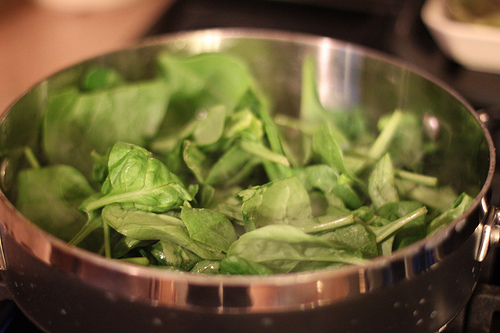 Pour the reserve broth into the pan along with the Sun Dried Tomatoes.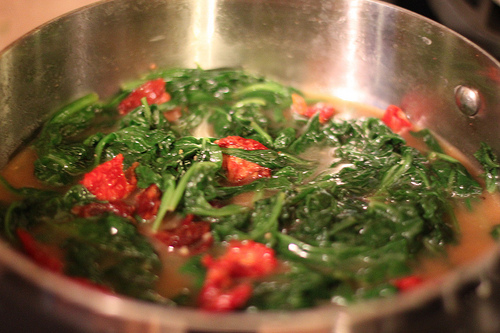 I cooked until most of the liquid was absorbed. (You should see mushrooms in there too! I forgot about the package of mushrooms I needed to use and decided to add it near the end because they needed to be used up and I thought it would add to the recipe, which it did!)
Combine the Spinach Mixture with your cooked pasta. Top with your freshly grated Parmesan or Romano cheese.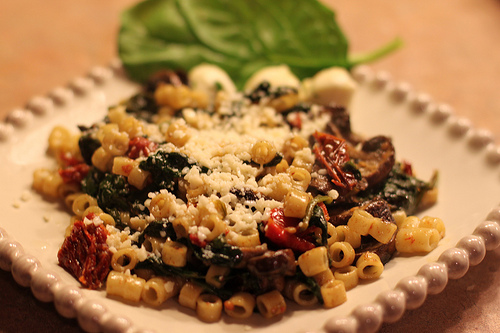 Post Dinner Analysis
I loved this one! I am adding this to my rotation. Just the right amount of spice.
Freezer Friendly

Freeze mixture without the pasta. Unfreeze and add pasta to the mixture.
Meat it Up

Add chicken.

Meatless Mondays is a weekly feature which will showcase some of my hits and probably misses with living a meatless life. Many of you know I stopped eating meat about a year ago for personal reasons. While, I haven't had any desire to go back to eating meat, it has been a struggle to find healthy foods to eat.
Everywhere you go, meat is the main dish. Since I was new to this lifestyle, it led me to eating unhealthy options. I'm on a path now to cook healthier options at home without meat. While going meatless is a personal choice for me, you can still save money by having one meatless meal a week.
Will you join me on this journey by preparing one meatless dish every week?
If you have any questions about the vegetarian lifestyle, you can read more about it at GoVeg.com.