by
Matt McGee
Spring means it is almost time for our life to be consumed with Baseball. With three kids now in sports, I know it can get expensive for just sign ups let alone all the equipment they need. Obviously with multiple kids, if items are still in good condition, we can pass down some items to the next child in line.
First you will want to get a list of required and recommended equipment. You may not want to buy cleats for a four year old first player when tennis shoes will work just as well. The equipment list is handy too because the league may provide certain equipment like helmets, pads, etc.
Once you've determined what you need, use these tips to stretch your sporting equipment budget to the max!
Beg, Borrow, and Buy Used
Shop around at consignment and stores like Good Will. Many will have gently used or brand new cleats. Places like Play it Again Sports offer gently used items for sale. Check your local paper for community wide garage sales as many people will want to start spring cleaning right now. You may be able to score a good deal or freebie if you have patience with Craigslist or Freecycle.
Borrow/trade with family and friends. Many friends and family are happy to clean out their closet and give gently used items to someone they know.  Ask around your circle before donating any of your gently used sports items.
Some sports leagues have programs for families who can't truly afford the necessary equipment. Don't be afraid to ask the coordinators if you are in this situation as their may be a program already in place where people trade/donate gently used items.
In Stores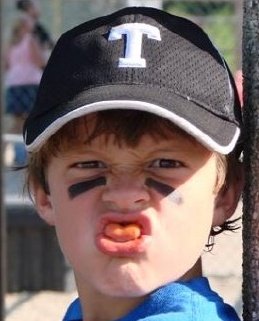 If you can't find what you need used, you may be able to score some deals at sports retailers like Dick's Sporting Goods, Dunhams, or MC Sports. Sign up for any rewards programs they offer as many times you will earn rewards for money you spend as well as have access to money saving coupons.
Many stores will offer "package deals" where you can purchase a Soccer Package which includes cleats, shin guards, and a ball for a flat price. You can usually save by doing this IF you need all of the items in the package. With three kids, someone usually needs something so sometimes the package deal is split between kids. You usually can combine $/$$ off coupons with these package deals so maximize those in store coupons!
Beyond your sports retailer, many of the big box stores will also carry what you need. I've noticed these stores even carry some of the brand name sports equipment. One of my favorite retailers, Meijer, seasonally will offer a buy X grocery products, get $10 off sporting equipment. Combine the needed grocery items with a coupon  and you have found a great deal.
Shop the clearance aisles year round for marked down items and buy before you need them. The best time to peruse those outer perimeters is after that particular sport season has started.
Online
Before you shop online, always google "Store Name Coupon Codes".  You can also earn money back by shopping through websites like Ebates and Cashbaq. These sites will also list any free shipping or coupon codes too.
Ebay can also be a source of new and used items. I've purchased both from Ebay before. When shopping Ebay, take into account the total purchase price (bid + shipping & handling costs) and check out the seller's feedback. for any potential problems. You can also earn up to 3% back on your purchases from Ebates.
How do you save on sporting goods?