Not only are Stride Rite shoes adorable, they also have a new program geared towards making it easier for moms to choose the "Rite" shoes for their children's feet called the STEP program. Better yet, it is all scientifically proven. You can rest assured that Stride Rite shoes are specifically designed for every step of your child's development.
Even better, right now, you can score 50% off your second pair when you purchase one pair of shoes at Stride Stores and online at StrideRite.com. Use coupon code BTSBOGO when shopping online. Sale will be going on until September 6, 2011.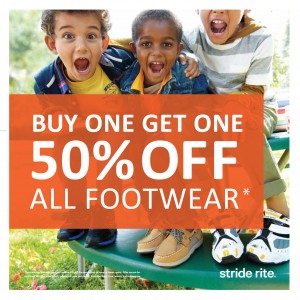 I've been a fan of Stride Rite for awhile especially since they are one of the few brands that offer wide and extra wide fitting for babies with chunky feet like two of my children.
Stride Rite footwear has always been developed with the highest of standards, backed by the latest research and technology, which moms have come to trust since 1919. Stride Rite is committed to providing a helpful shopping experience that enables moms to make the 'rite' shoe decision to meet the developmental needs of their children's feet among a stylish selection of quality Stride Rite options.
Up until age five, a child's foot is stil forming and is mostly cartilage, making it easy for parents to accidentally squeeze feet into ill-fitting shoes. The effects of this can show up in posture and walking gait even in the early 20s.  So make sure your child's shoe fits!
Stride Rite sent us a pair of shoes to try out! Of course, Sofia couldn't wait to try them on. These are perfect for Back to School!
She was "Pink Girl" the day she wore her new shoes!
Find a Stride Rite store near you.