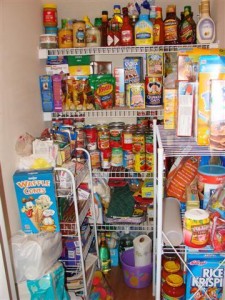 I'm so thankful for my stockpile & crazy clearance capers because this week a local family of five lost everything in a fire. They were lucky to even get out alive since they did not have working smoke detectors. They were renting and did not have any rental insurance – something people just don't think they will need.
Because of my crazy couponing ways & stockpiling, I am blessed to have so many items (everything from canned food items to backpacks & toys) I could donate to this family who desperately needed it with a moment's notice. I'm telling you this – not toot my own horn – because this is what YOUR stockpile can do. Sometimes it isn't just for you but it is for someone who needs it more than you. You will have these items right at your disposable. You can reach into your nice stockpile of items and give boxes of items away because you paid next to nothing for it!
Even if you are a person blessed enough to not have to worry about money and donate on a regular basis – think of how much farther your dollars could go if you couponed, CVS'ed, and stockpiled basic necessities!