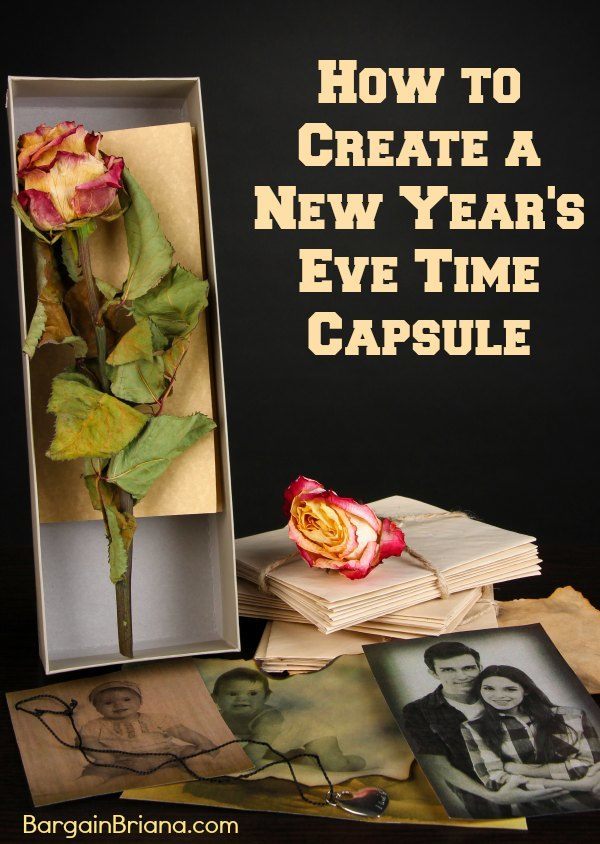 New Year's Eve is the perfect time to create a time capsule for your family. Time capsules are meant to give you a look back at how things used to be and what you expected at that time. For New Year's Eve you can create a time capsule just for the coming year as a fun activity for your family. Check out these tips for creating your own time capsule.
Choose the Container
Choose a good container for your time capsule. It will need to be something that will keep the items dry and dust and insect free. You can use a clean coffee container, a plastic storage box, or some other type of plastic container. Plastic would be a better choice than cardboard as cardboard can get wet and will attract pests.
Get Everyone Involved
Plan to get your whole family or group of friends involved in creating the time capsule. Whether you are planning a quiet night on New Year's Eve or you're hosting or going to a large party, put your time to good use with loved ones. Ask the participants to create a list of what they hope they will accomplish over the coming year. They can also write a letter about things they hope they keep in mind or remember over the coming year. These papers should all be put into the time capsule when you put it together on New Year's Eve.
Gather Things to Put in the Time Capsule
Before you put it all together, gather up items you want to add to the time capsule. You can choose things like a newspaper from New Year's Eve, movie ticket stubs from your favorite movies you saw this past year, photos and snapshots from the past year. You may want to include a questionnaire about current events that features information like the current price of gasoline, the temperature and weather on New Year's Eve, and other interesting facts.
If you're hosting a New Year's Eve party you may want to include souvenirs from the party like a New Year's napkin, party favor, or other decoration.
Make a Video
Use a camera to create a video to include in the time capsule. Be sure to catch everyone involved in the time capsule on the video. They can talk about what they want to remember about the past year and what they hope for the coming year or anything else they want to share. Be sure to include the video on a flash drive, an SD card or a DVD/CD in the time capsule.
Put It Away
Once you've put everything together, put the time capsule away in a safe place. Make sure it is somewhere that you will remember so you can pull it out next New Year's Eve.
A time capsule can be a fun project for the whole family. If you have younger kids put them to work getting ready for it before New Year's Eve then put it all together and put it away.
Did you enjoy this post? Find more money saving tips here.