This is a sponsored post. All thoughts and opinions are my own.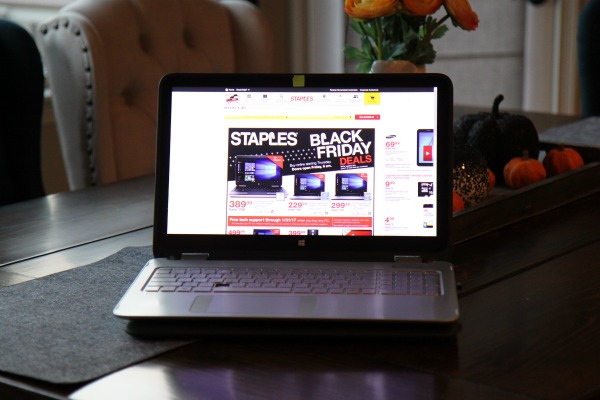 One of my favorite places to shop on Black Friday has always been Staples. I can always find what I need there. I wanted to share some tips for shopping at Staples on Black Friday, to make sure you snag all the best deals possible. One of the best things about shopping at Staples is you don't have to fight the crowds! They provide you the convenience of shopping online with the ability to pick up in-store. This year, their Black Friday deals will begin November 20th and last through Black Friday!
Get there early
If you do plan to brave the crowds on Black Friday, getting to Staples early is always a good idea. They always have awesome deals, but the early bird truly does get the worm when it comes to Black Friday.
Print out the deals
Something else I do when I go Black Friday shopping at Staples is I print out the deals. If I don't print out the deals, I take a screen shot of them on my phone, so I remember the deals when I get to the actual store. This helps me stay focused on what I'm looking for and reminds me of what's on sale. If you don't want to print out the deals, Staples has a really great mobile app where you can view some of their Black Friday deals as early as right now!
Pump myself up
Before heading to the store to shop, I always look online. The great deals that Staples offers on Black Friday always blows my mind. I like to look online prior to shopping to pump myself up. I also like to try and take a mental note of what I want to get and what I'm okay not getting.
Take advantage of their awesome deals
I have never seen a store offer so much on Black Friday. In fact, Staples has already released a sneak peak of what they will be offering that day. My mind is blown! Their deals have been sparking quite a buzz. Here is just a sneak peak of some of the deals they will be offering.
HP Laptop with Intel Core i5 Processor, $389.99 (save $250)
Canon Pixma MG3620, $29.99 (save $50)
Exclusive LA-Z-BOY Bradley Chair, $179.99 (save$120)
10% off Zoop drones, starting at $26.99
40% off custom holiday cards in stores or at staples.com
Free exclusive tech coupon book with more than $700 in savings on tech accessories and services – in stores only
Get everything you need… and more
When it comes to Staples, you can get everything you need there and stock up on an assortment of gifts. It's nice shopping there because you know you can get great deals and cross a ton of people off your list. Also, during the holiday season, Staples has great deals every day for the holiday season.
I hope you enjoy my tips for shopping at Staples on Black Friday! Do you have any tips to share?