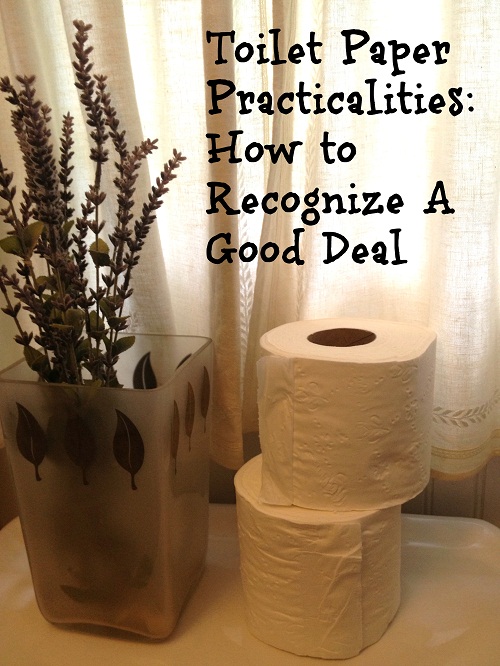 When shopping for toilet paper, you are faced with so many options. You have double rolls, two ply, jumbo packs, and so many other choices. It can be hard to figure out what exactly is a good deal when buying toilet paper, as you really want to pay attention to the sheet count to figure out if you are getting the most bang for your toilet paper buck. Sure a deal may seem good, but upon closer inspection you may see that they are only single ply or single rolls, which means they will be used up quickly. So what do you do? Well there are a few simple tips and tricks you can follow in order to make sure you are getting the best deal possible on your toilet paper. Below, you will find several helpful tips for how to recognize a good deal on toilet paper so that when you see one, you can really stock up. Take a look!
How to Recognize a Good Deal on Toilet Paper
1. Knowing square footage is key.
Don't worry about the number of rolls in a pack or if the roll is single or double. All you need to know is the square footage. All of the other information is really irrelevant as square footage will give you the most accurate idea of how much paper is in a pack compared to another! This information is typically in very fine print at the bottom of the package. So look hard, and you will find it. Your searching for this info will be well worth it.
2. Don't count on sales ads.
Sales ads for toilet paper will only list the number of rolls in a package, it will not list the number of square feet per roll. The number of square feet as you know tells you more about the quantity of each roll. So, don't plan your purchases on sales ads alone. Wait until you see the product in person so you can see the square footage and then make a decision.
3. Try to spend around one cent per square foot.
When looking at a package of toilet paper, find the square footage of the package and multiply it times one cent per square foot. If your figure matches or is less than the price, it is a great deal. If your calculation is way less than the actual price, keep looking!
Here is an example shopping scenario that can show you how to decide if you are getting a good deal of not. Suppose you are looking at a 12 double roll pack. This pack would actually be equivalent to 24 regular rolls. On the packaging, you see that the total package amount is listed as 400 square feet. This package of toilet paper is on sale for $4.00. Here is a mathematical breakdown to show you how this is a good deal:
400 square feet for $4.00 = 400 square feet for 400 pennies, or $4.
Your final price is 1 cent per square foot. This is a super deal!
4. Stack name brands with coupons.
In most cases, you can buy the name brand toilet paper for less if you use a coupon on it. Name brand paper does tend to be a bit thicker and cozier, so a little goes a long way. Keep your eyes peeled for coupons good on name brand toilet paper products so you can score quality for less.
So where can you find these coupons? Toilet paper coupons can be found in your Sunday circular as well as many home and gardening magazines. It also seems as though blinkie machines that distribute coupons are typically places next to toilet paper displays. You of course can also print coupons for your favorite toilet paper brands right from your computer. Below, we have rounded up a selection of current toilet paper coupons available for print right now! Take a look.
Printable Toilet Paper Coupons:
So the next time you go shopping for toilet paper, take these tips and printable coupons with you so you can recognize and score the best deal possible!