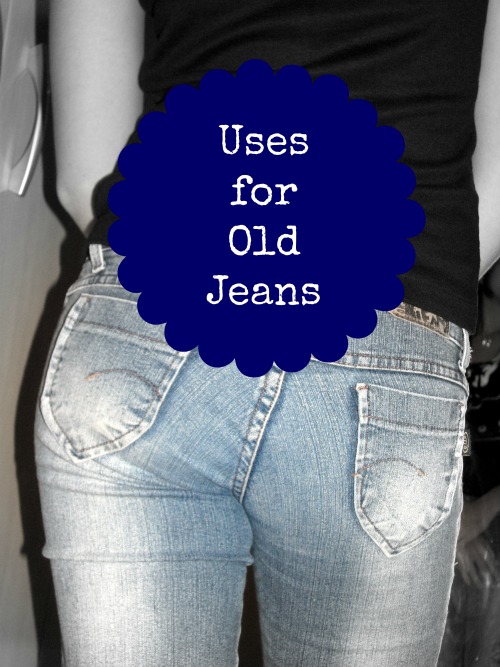 Everyone loves their blue jeans and sometimes it can be difficult to let go when we know our jeans are outdated, worn out or no longer fitting right. When my jeans no longer fit I usually donate them to a worthy cause but sometimes jeans are not wearable because of holes or stains from grease or bleach. Have you ever accidentally poured bleach all over your favorite jeans?
In the garden
If you're an avid gardener you know how expensive ground covering can be. Well I've got you covered. Old jeans can be used as ground covering and they will biodegrade after time. I would not use jeans material for vegetable gardens as the synthetic dyes in jean material could be harmful when consumed and there is no guarantee that your vegetable plants won't be contaminated. To use jeans as a ground covering you will need to use as much of the fabric as a "whole" as you can. Don't cut jeans into smaller pieces, instead cut open all the seams.
Home décor
Jean material can be used as texture mediums in art or painted on and then framed. You can create pillows, recliner cover or chair seat cover. Jean material can be used as pot holders and oven mitts. They can also be used as a kitchen rug base sewn onto other fabric or as table place mats. People have used jean fabric as table runners during thanksgiving.
Quilting
Jean material is extremely strong and durable, it does not ware out easily so it makes a good fabric to use in quilting. Often jean scraps are used in patchwork quilting and even quilted stuffed animals. Jean material does need to be used in moderation. The saying too much of a good thing rings true with this material.
Create baby items
Have you seen the custom diaper covers you can purchase off of places like Etsy or eBay? Jean material looks super cute in a diaper cover. To pull off a 'pair of jeans' look make sure you cut the diaper cover over the pocket area of the jeans, so that the back of the diaper cover has the jean pockets. If you have an old diaper cover you can use it as a pattern, just turn it inside out and cut through the seams.
Make clothing from an old pair of jeans
Jean material can be turned into skirts or shorts. You can create a corset top using jean material and contrasting boning. Create unique boot covers by machine embroidering on the jean fabric to pull off a one of a kind look that transforms your boots into something new. Use old jean fabric to make toddler jeans and jackets, this works well when the pair of jeans is a plus size because there's a lot more fabric to work with.
Did you enjoy this post? Find more money saving tips here.