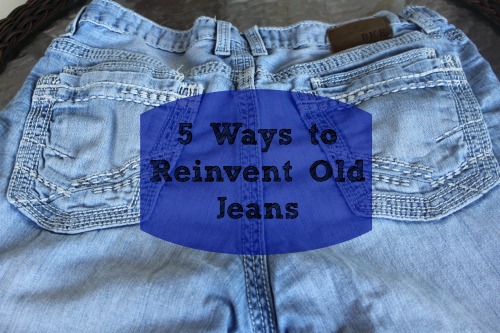 We've all got one or two pairs of old jeans that should be thrown out but they're our favorite and fit well. If you're tired of wearing the same old pair but not quite ready to throw them out then here are 5 ways to reinvent them.
Jean shorts
Have you walked into the mall recently? Studded or frayed shorts are the rave right now. They are ridiculously expensive for something so easy to do plus the materials to make them are all at craft stores. To create the look, cut jeans into shorts, fold the hem over and sew using a jean thread to match fabric color. Decorate the one back or front pocket with the studs. If wanting the frayed look you can make handmade rips and fraying by using a seam ripper and gently cut and fray the front portion of the material.
Make a loose jean into a skinny jean
If you are trying to keep up with on trend styles then you know they can change at the drop of a hat. You invest money into a new wardrobe and they go out of style a couple months later, it's a risk I'm not willing to take so I find ways to have the latest trend without purchasing new items. To achieve this look you need to tapper in the pant leg going from pant hem up the mid thigh, cut access fabric and sew using a strong jean thread to match the previous thread used so it's not noticeable.
Turn a pair of jeans into a mini skirt
Jeans with holes in the knees are great for skirt making and easy to. To pull of this project cut the knee off, turn the jeans inside out and take a seam ripper to the crotch area. This will create a skirt. Add studs using tweezers or punch tool for an on trend look.
Make sofa pillows
Jean material is an easy fabric to embroider on and therefore would be a unique item to have on your sofa as pillows. To create these looks create rolled pillows or traditional square ones by combining two different colored jeans. Don't limit yourself to just blue jean color, try colored jeans and use ribbon or cording to pull off an unusual piece. Use any store bought home décor pattern to make these pillows.
Turn jean scraps into a washable rug
Jeans that aren't usable can be repurposed by cutting them into long strips, tie them together and then create a rug from the long strips of fabric. To pull off a braided rug you will braid 3 strands at a time. You can find tutorials online by searching Google or look on YouTube.
Did you enjoy this post? Find more money saving tips here.