Over the past few months, I have been sharing some of my favorite apps and ways to use the Motorola Xyboard with Verizon 4G service. Now it's time to move on to another device! A few weeks ago we played 20 questions with Verizon via Twitter to see what our next device was going to be….
and….
it…..
is….
The DROID M! I was kind of hoping for the iPhone 5 but this phone has not been disappointing. It is light weight, speedy, and very durable. So far, I've been able to do everything I do on my iPhone 4S on the Droid M and quite a bit faster as this phone is 4G LTE.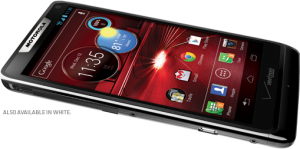 I've used it to keep tracking of my jogging with the Runkeeper app, streamed shows with Hulu & Netflix apps, listened to music with the Pandora app, surfed the world wide web with the Chrome browser, checked out my email on the go, and much more. One thing it does have above my iPhone is I dropped it straight on the concrete the first couple days I had it and it didn't scratch, dent, or damage in any way – with NO case.
The price for the new Droid M is just $99 with a new two year activation, which is a great price point for this phone. You probably have noticed commercials for this phone as it is the phone with the edge to edge display, which makes it great for watching movies. It also fits in the palm of your hand just like the commercial and makes it good to view while walking/running. :)
I also love that the temperature/weather is right on your home page instead of having to open an app or pull your notifications down to view. It's right there in front of your face with no effort required to find this vital information.
Right now my son, who just had a birthday and begged for this phone is using this phone. The next post you will see will come from him as this was part of the deal of him using the phone. He gets to use it for a couple weeks if he writes a post about it. He wasn't too happy at first because it sounded too much like school work. However, he is having a great time with this phone so I'm sure it will be worth it to him!
Check out the Amazon Android Daily Freebie too for more free Android apps.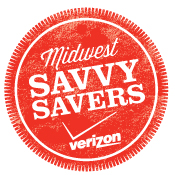 Disclosure: I am participating in the Verizon Wireless Midwest Savvy Savers program and I have been provided with a wireless device and six months of service in exchange for my honest opinions about the product. Learn more on how I disclose on my Disclosure Policy page.