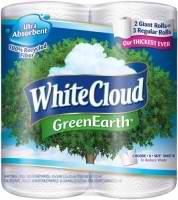 If you've been around BargainBriana.com for awhile, you may remember way back when I participated in the White Cloud Rate Your Roll Challenge.  Finding the best quality product for the lowest price is always a goal of mine and sharing that information with my readers is important as I know you are looking for value as well.
Having four kids in the house and one very klutzy mom, who makes just as many spills, we are always in need of a good absorbing paper towel. There are some messes you just don't want to use dish towels for…especially one from the other night, which was so gross, I won't even discuss!
A few weeks back, White Cloud sent a huge box of paper towel to us.  I find the White Cloud Green Earth paper towel to be very comparable to the other brands I normally buy.  I would have never guessed it was made with 100% post-consumer recycled fiber as it performs just as well as other brands I've used in the past. Not only does it cost less than other brands, it is made from recycled products such as office paper. This is a win win!
Here's what the recycled fibers slush looks like before it is made into paper towels as I discovered on my trip to the White Cloud Factory last year:
Do you want to try out White Cloud Green Earth Paper Towels? You can print a $1 off Green Earth Paper Towels on WhiteCloud.com. You will also be entered to win a year's supply of  White Cloud Green Earth Paper Towel and Bath Tissue. You can enter this up to one time per day so enter daily for more chances!
It gets even better, I have 10 FREE product coupons to giveaway! Switching to a paper towel that is made from 100% recycled post-consumer fibers is something small you can do, which makes a big impact.  The first 10 readers to leave me a comment on this post withe the small steps they've taken to be more eco-friendly will win a coupon for a pack of White Cloud Green Earth Paper Towel.
Follow White Cloud on Facebook or Twitter to stay up to date!
Disclosure:  This post is brought to you by White Cloud .  Rest assured, all opinions and thoughts are always my own. My goal as always is to help you save time and money. For more information read my disclosure policy.