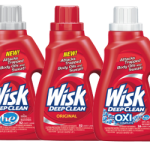 This is a fun post as part of my continued journey with Wisk with the Stain Spectrum Technology.  For this experiment we are taking on carbohydrate stains such as chocolate milk, ketchup, barbeque sauce, and syrup. I don't know how many shirts we've had ruined by ketchup!
For this experiment, Eli was my lab rat. He was very concerned about the ketchup on the shirt and how it was going to come off because he wanted to wear this shirt later.
I'll be honest, I didn't think Wisk would be able to remove the ketchup without leaving some sort of trace. As you can see, we started out with a perfectly white t-shirt.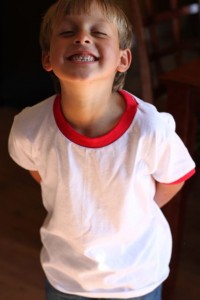 Soon to be overtaken by ketchup, which is a fairly normal occurrence for Eli.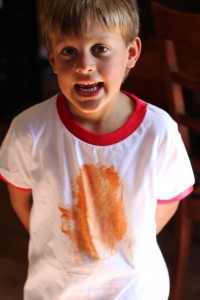 At this point, I would be freaking out thinking we just ruined a brand new t-shirt, right?  But I'm going to try to see if Wisk can take care of it. (Note my free sample I received, which included a $1/1 coupon.)
We pre-treated the affected area of the shirt with Wisk, rubbed it in for a few seconds, and then let it sit for around five minutes.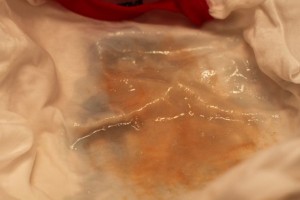 Even as I was scrubbing and rinsing the shirt. I thought to myself there is no way the ketchup is going to come completely out of the shirt.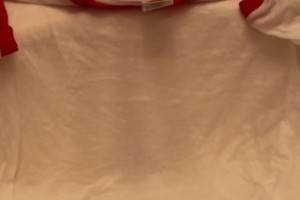 Eli and I were both pleasantly surprised that there is no trace of the ketchup. This is not a license to make messes on new clothes but it is a safety net knowing that with Wisk we can get those tough stains out!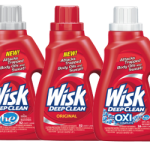 With its new stain fighting technology, the new Wisk (in the red bottle) will tackle all of them! Be sure to follow Wisk on Facebook and Twitter to keep up with the latest promotions.
You can also learn more and download a money saving coupon at Wisk.com. A 32 load bottle will cost around $5.99 retail price but we've seen it on sale lately for much less! So you should be able to get a deal with a sale and with the printable coupons here or here.
What kind of stains do you have most of in your household?
This is a sponsored blog post by In-Store only Christmas Price Guarantee on behalf of Wisk. Read my full Disclosure Policy.