This is sponsored content.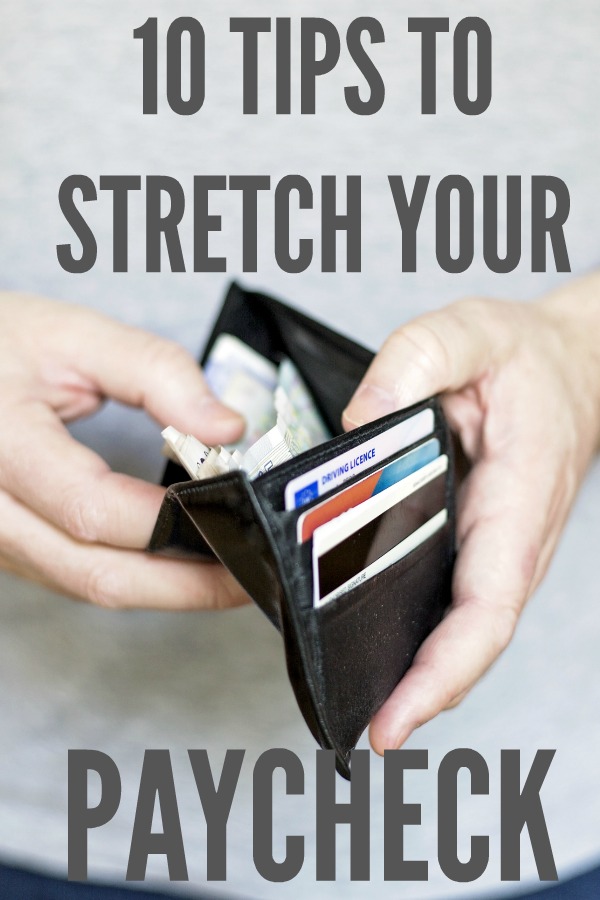 Millions of Americans struggle to pay all of their bills and have enough left over for other expenses, like food, transportation, and entertainment. Others can just barely squeeze by with each paycheck. If you find yourself living paycheck to paycheck, here are some ways you can make your money last a little longer. Doing so may help you find a few extra dollars to start saving.
1. Set a Strict Budget
In order to avoid money problems, the best practice to start with is to set a strict budget. Your budget should also be realistic for your lifestyle. Start with your monthly pay, and then subtract your regular recurrent expenses. Work to figure out exactly how much money you can spend each day without going over your limit.
2. End Your Takeout Habit
Next, you can start reducing some of your monthly spending by ending costly habits. One big money drainer is going out to eat. Instead of ordering takeout a few times a week or taking your family to a restaurant, cook at home. Buying your ingredients at the grocery store is a much cheaper option to feed your family. A diet that consists of too many fast food meals is also bad for your body.
3. Use Coupons Everywhere
Then, you want to pay as little as possible for the things your family needs to buy each month. Coupons are a great way to get the same experience or product for less. You can look through your weekly Sunday paper or sign up with a coupon clipping service to save even more cash each time you visit the grocery store.
4. Fire Up Your DVD Player
If your family enjoys regular visits to the movie theater, you may want to cut back. The average price of movie tickets has continued to increase in the last few years. A family of four could pay close to $50 for tickets alone. When you add popcorn and drinks, the price gets even more ridiculous. A better idea is to wait for the movie to come out on DVD. Try renting the movie or getting it for free at the library instead.
5. Tackle Your Own Car Maintenance
The cost of car ownership is also one of the biggest expenses for families. While there's not much you can do about gas prices, you can start saving on your car repair costs. Consider tackling some simple car maintenance by yourself. You can do easy tasks, such as changing your oil, and help your family get more savings.
6. Plan Your Week's Menu
Another helpful tip for families trying to get more with less money is to plan the dinner menu ahead of time. Instead of making a last minute meal decision, set a weekly menu on Sunday, so you can work with the ingredients you have to create delicious and satisfying dinners. Stock your pantry with a weekly visit to the grocery store.
7. Adjust Your Tax Withholding
An additional easy way to help you have more in your bank account at the end of the month is to give yourself more money to take home each pay period. Many workers have not looked at their tax withholdings since they were hired by their current employer. After major life changes, such as marriage or having kids, it's recommended to change your withholding status. Doing so can help increase the amount of money that you get in your paycheck each month.
8. Look for Free Activities
Being on a budget doesn't mean that the fun has to stop. You can still find great ways to entertain your children that are friendly to your wallet. Find out about free activities for kids that are in your area. Explore the outdoors by visiting state parks or fun playgrounds. Create new adventures without spending extra cash.
9. Anticipate Money Shortages
No matter what you do at the end of the month, there may be unexpected expenses that get in the way and leave you coming up short. You can get through these tough times if you anticipate when it's going to happen. When you start recording your monthly budget, you can know ahead of time when there may be a problem. One way to get yourself back on your feet is to consider a short-term loan. Don Gayhardt, an industry expert in loan products, has worked to incorporate technology in the short-term loan industry, making repayment faster and more convenient.
10. Ask for a Raise
Finally, if you're still having trouble making sure everything is paid, try asking for a raise at work. If you've been with your employer for a while, and you do an outstanding job, you may be due for one. Don't be afraid of asking for what you deserve. The worst possible thing that could happen is your boss may say no. There's really nothing to lose, except the chance to make more cash.
Don't be stressed out each month as you see your paycheck disappear quickly over the course of a few days. Take action to make it last as long as possible, and do more to keep your cash in your pocket each month.