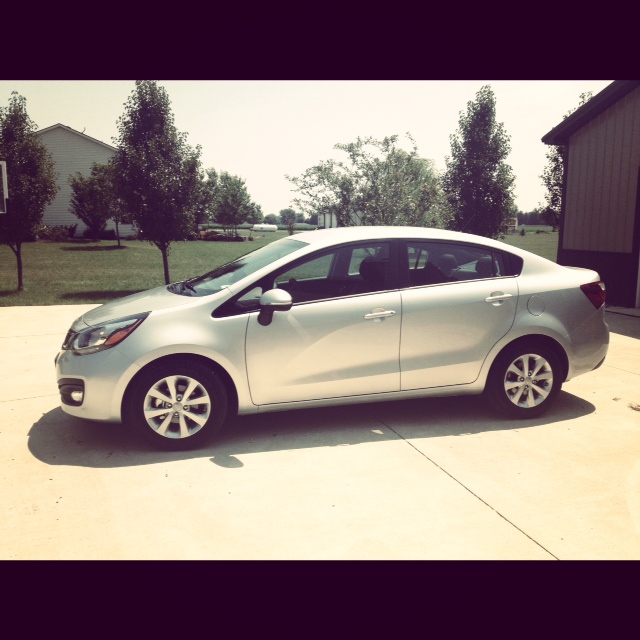 Looking for an affordable car with great gas mileage? If so, then you will want to check out the 2012 Kia Rio. Our family recently had the opportunity to try out the Kia Rio and I'm going to share our thoughts on this compact vehicle.
While the Kia Rio wouldn't be large enough to accommodate our entire family of six on a car ride together, we have realized we don't often ride together as a complete family since the kids are involved in so many different activities.  We are often going in opposite directions. This means a larger vehicle isn't always practical or fuel efficient.
We enjoyed the week we had the Kia Rio – it is a good looking car with hip features.  After driving it for a week, I think it would be a great car for someone who needs a car to for commuting, a teenager or recent graduate, or up to a family of four due to the great gas mileage, inexpensive price tag, and surprisingly large trunk space.
This vehicle gave us a smooth ride but I didn't feel like it had enough "get on it" for me. I forgot what vehicle I was in and pulled out on the highway and then realized that I couldn't quite get going fast as I was used to doing in my vehicle. I'm probably just a little spoiled by my current vehicle's V8 engine.  This is another reason I think this would be a fantastic car for a teenager. I definitely don't want my teenager having too much power in a vehicle. However, I want that power when I'm driving! ;)
We only have a couple of years until our oldest child will be driving so compact cars are something we have been paying attention to. Yes, just a couple years we will have a driver. This age group as well as mine loves the USB  jacks as well as the slot that your phone fits into perfectly in the front console.
The first new vehicle I had, did not have all the bells & whistles that this Kia Rio has, including:
Rear camera display
Navigation
Auto Headlights
Power Windows & Locks
Power Steering (my first new vehicle did not have this!)
The trunk space was surprisingly large and I was able to fit $150 worth of ALDI groceries in the trunk. As you know, that is quite a bit of groceries! We also had another day where we had to transport a couple bags of golf clubs and there was plenty of space.
Safety is always something that is important to consider when purchasing a vehicle, especially as a mother of four. The Kia Rio has a 5/5 star rating by the National Highway Traffic Safety Administration in side testing and four star rating for overall safety, front, and rollover.
Fuel efficiency: Our daily routine consists of around 10 miles of highway driving and 10 miles of "city" driving. Occasionally, we get more highway driving if we go out of town. I averaged 29 mpg, which I consider to be good.
Price: $18,145.00 for model tested (prices start at $13,600)
Warranty: 10 year/100,000 mile limited powertrain warranty, 5 year/60,000 mile
Overall, I think the new design and interior features make the Kia Rio a vehicle to consider if you are looking for a vehicle in this class.
I was able to drive a Kia Rio for a week in order to facilitate this review. No compensation was received for this post. All opinions and thoughts are my own.