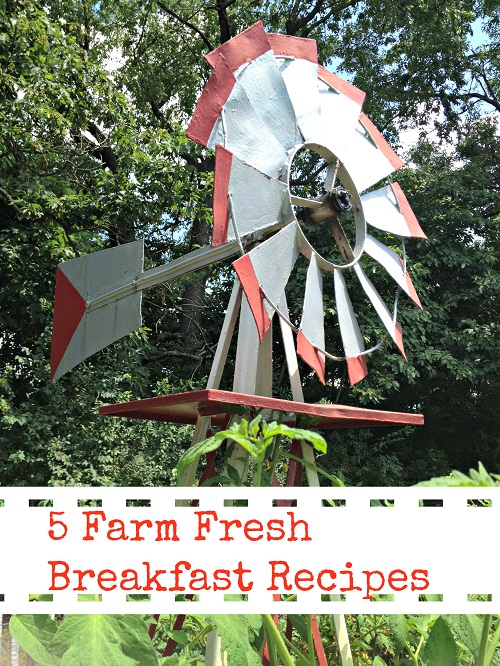 Farm Fresh Breakfast Recipes
Whether you live in the heart of the Midwest amongst cornfields, or in the city amongst skyscrapers, everyone loves a farm fresh breakfast. Farm food is comfort food, and can leave you feel cozy and satisfied each time you eat it! If you have been longing for a farm fresh breakfast, you have come to the perfect place.
Below, you will find 5 farm fresh breakfast recipes perfect for you to try this weekend. Whether you are fixing a brunch for friends or just want the taste of the farm at your own breakfast table, these recipes are sure to do the trick. Grab your apron, grab your mixing bowl, and take a look below at some farm fresh recipes that will have you feeling like you are down home on the farm in no time.
5 Farm Fresh Breakfast Recipes
1. Farmer's Skillet Breakfast
This tasty treat gives you all of the fixings of a perfect breakfast in one pan!

Ingredients:
6 strips of bacon
2 tablespoons chopped onion
4 medium cooked potatoes, cubed or chopped
6 eggs
salt and pepper to taste
1 cup shredded cheddar cheese
Directions:
In a skillet, cook your bacon until crisp. Then remove and drain.
In your bacon drippings, cook the chopped onion and potatoes until brown.
Beat the eggs and carefully pour them into the skillet.
Cook the mixture stirring until eggs are cooked.
Sprinkle in your cheese and crumbled bacon.
Season with salt and pepper.
Serve!
2. Farmhouse Biscuits
Make these fluffy biscuits to eat alone or with your favorite fruit spread. Wait until you see how easy they are!
Ingredients:
2 cups of flour
1/2 teaspoon of salt
4 teaspoons of baking powder
1 ½ tablespoons of sugar
1/3 cup of vegetable shortening
2/3 cup of 2% milk
Directions:
1. Preheat the oven to 425° F.
2. Grease two 8-inch cake pans.
3. Stir your ingredients gently until the dough forms a ball.
4. Place the dough onto a floured counter and knead a dozen times.
5. Pat the dough until it is about 1/2 inch thick.
6. Cut the dough into rounds with a cookie cutter or glass top.
7. Now arrange the rounds so that they are touching each other in the cake pans.
8. You can now bake for 15-20 minutes or until golden.
3. Country Hash Brown Pie
Enjoy all of the tastes of the farm in this simple to make pie.
Ingredients:
3 cups of shredded potatoes
1/2 pound ground pork or breakfast sausage
1/4 cup chopped red or green bell pepper
1 cup milk
1 teaspoon Dijon mustard
1 cup of shredded cheddar cheese
6 eggs
Butter
Pie plate
Directions:
1. Heat your oven to 375° F.
2. Butter the bottom of a 9-inch glass pie plate.
3. Place your shredded potatoes in the pan and bake for 10 minutes or until golden.
4. Cook your sausage in a skillet until browned. Drain.
5. Combine the cooked sausage, bell pepper, milk, mustard, and eggs  in large bowl and mix well.
6. Pour the mixture into your potato crust.
7. Return the pie plate to oven and bake for 30 minutes or until set.
8. Remove and sprinkle with cheese and allow to bake for 1 to 2 minutes or until cheese is melted and browned. So tasty!
4. Farm Fresh Fruit Salad with Mint
Use all of the fresh ingredients from the farm including refreshing mint to make this sweet treat.
Ingredients:
1 medium cantaloupe, cubed
1 medium honeydew, cubed
½ seedless watermelon, cubed
2 cups of red or green seedless grapes
¼ cup fresh lemon juice
¼ cup honey
¼ cup fresh mint leaves, chopped
Directions:
1. First, mix the honey, lemon, and mint together. Set aside. This will serve as your dressing.
2. Combined all of your chopped and cubed fruit pieces in a bowl.
3. Pour the dressing over your fruit mixture.
4. Serve right away.
5. Farmer's Lemonade
Now, wash all of those farm fresh dishes down with a cool glass of Farmer's Lemonade.
Ingredients:
2 cups freshly squeezed lemon juice
1/2 cup of sugar
5 cups of cold water
1 pound of fresh strawberries
1 cup of heavy cream
Fresh lemon slices
ice
Directions:
1. Mix the lemon juice, the sugar, and 1 cup of cold water in a large pitcher.
2. Begin to stir until the sugar dissolves, then add the rest of your water.
3. Puree the strawberries with the cream and add the mixture to the lemonade.
4. Pour over ice.
5. Add some fresh slices of lemon to garnish and enjoy!
Now the only question is, which recipe do you try first? Whichever you decide, take a look below at an assortment of coupons you can print off to make this tasty dishes even more budget friendly!
Coupon Round Up

And don' forget www.coupons.com for ever changing coupons such as Kraft cheese products, Jennie-O turkey sausage and bacon products and more.