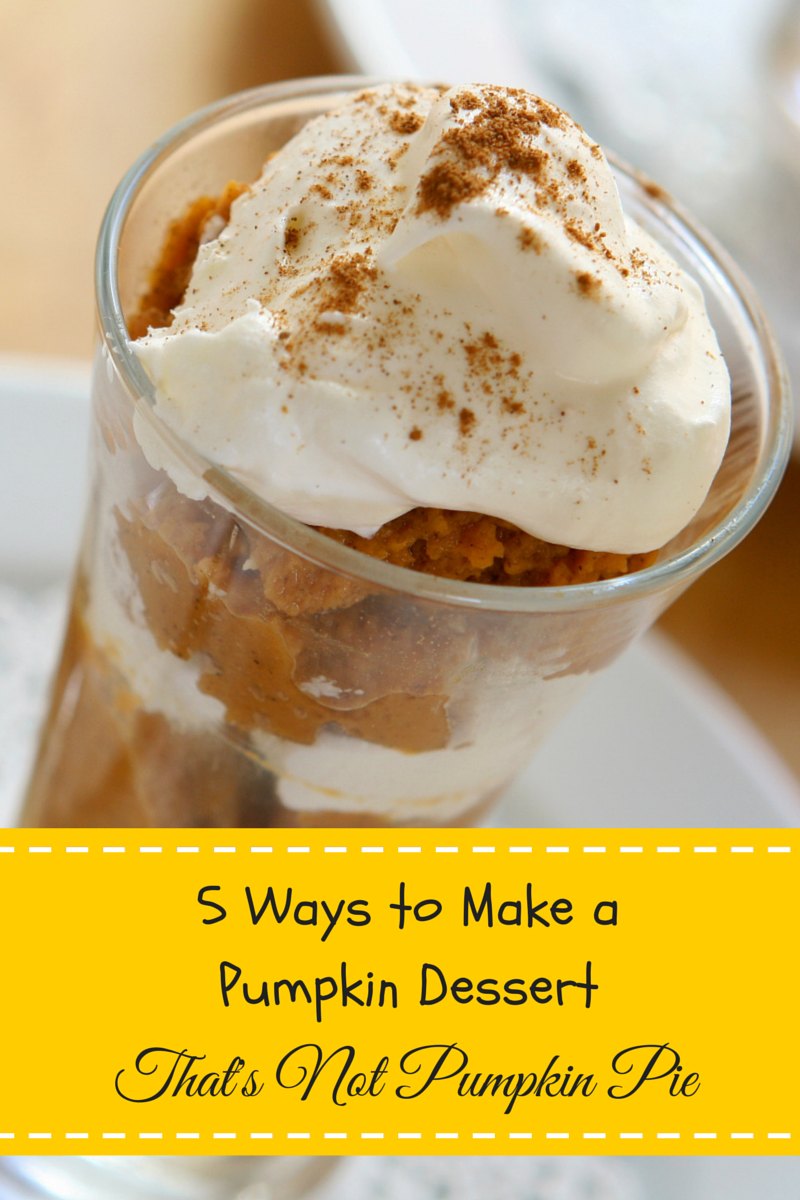 I love pumpkin pie but I also get sick and tired of eating it the same way every year. I was looking for a few new ways to make pumpkin pie to keep my family extra happy this year. Stay tuned for five different ways to indulge in pumpkin pie dessert this year that's not directly pumpkin pie.
Pumpkin Pie Shake
After you've made the pumpkin pie, you can turn it into a milkshake. Add the vanilla ice cream, a slice of pumpkin pie, and mix it in the blender with your favorite milkshake ingredients. Some people add ice or milk depending on how "thick" they want their shake. Try mixing this milkshake with vanilla almond milk as well (plus ice cream), it's delicious.
Pumpkin Cake
One of my favorite desserts to make that's not pumpkin pie is pumpkin cake. It's delicious in so many ways. You simple take a can of pumpkin (add your spices like cinnamon, nutmeg, 2 cups of sugar, and 2 eggs). Mix it all together and place on the bottom of a greased glass baking pan. You then take a box of yellow cake mix and crumble it on top of the cake (uncooked). Melt two cups of butter on top of the yellow cake. This makes for a delicious topping you won't be able to walk away from.
Pumpkin Parfait
If you're tired of eating pumpkin the same way every year, then you will love the taste of a pumpkin parfait. I cook a pumpkin pie like normal, but I break it into a parfait. A parfait can be layered many ways, I add pumpkin pie, whipped cream, and even different types of nuts to the mix. It's very delicious.
Pumpkin Pie Cheesecake
Do you love cheesecake and pumpkin pie? You will love a pumpkin pie cheesecake because it's something so sweet, you'll want to make it year after year. To make a pumpkin pie cheesecake, you'll want to make a traditional cheesecake and add in pumpkin pie puree.
2 packages cream cheese
1 cup white sugar
1 tsp vanilla extract
1/2 teaspoon vanilla extract
2 eggs
Pre-packaged graham cracker crust
½ tsp ground cinnamon
Pinch of nutmeg and cloves
Directions: You'll want to combine cream cheese, sugar, vanilla, and eggs in a bowl. Add the rest of ingredients to the bowl and spread mixture over the graham cracker crust. Bake in over at 325 degrees for 32 minutes and then place in fridge overnight to cool and set.
Pumpkin Ice Cream Sandwiches
This is one of my favorites to do with the kids. We take any chocolate chip cookie recipe and try to make the biggest and thickest cookies we can. We put pumpkin puree and vanilla ice cream in a blender and mix together. Add the ice cream mixture to the middle of two chocolate chip cookies and place inside of freezer for about an hour. These are so delicious!
Now you have 5 different pumpkin recipes that are not pumpkin pie! Enjoy!
Find more pumpkin recipes we have posted on the blog!
View the Recipe Index for a complete list of recipes. For the most recent vegetarian recipes posted on the blog, go here. To view all the recipes post on the blog, go here.