This post is sponsored by Fresh Thyme. All thoughts and opinions are my own.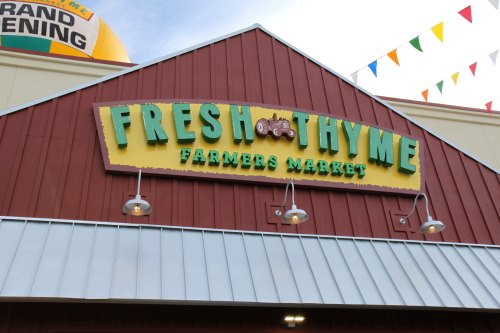 Fresh Thyme recently opened two new locations in Indianapolis. I was part of a group that was able to take a tour of the store before it officially opened to check out the store for myself. Fresh Thyme prides itself on offering fresh and healthy foods at amazing values.  After visiting the store and seeing the great values for myself, I'm hoping they expand further north to make it more convenient for me to shop at Fresh Thyme.
One of the things I love about Fresh Thyme is they offer a casual and non-threatening environment. Many of us are transitioning to a more healthy lifestyle yet we aren't completely 100% organic and natural and Fresh Thyme still offers recognizable name brands in addition to natural and organic products. As soon as you walk into the store, you will notice that you can see the entire layout of the store with the fresh produce and bulk items showcased in the middle of the store.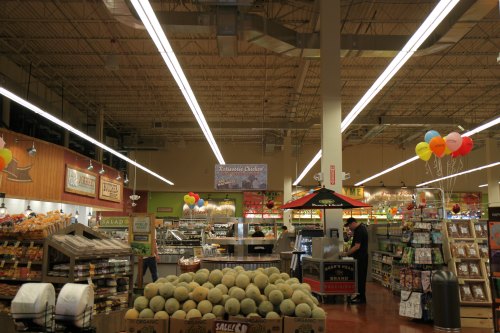 Fresh Produce Deals
Fresh Thyme features over 169 organic items in their store as well as traditionally grown items too.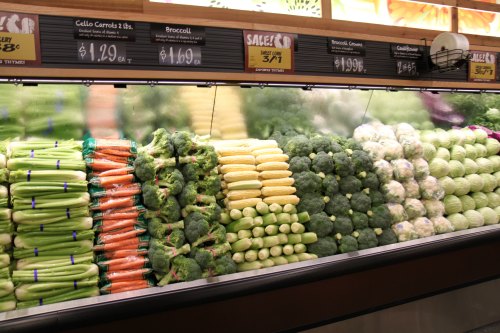 Check out the weekly specials on produce.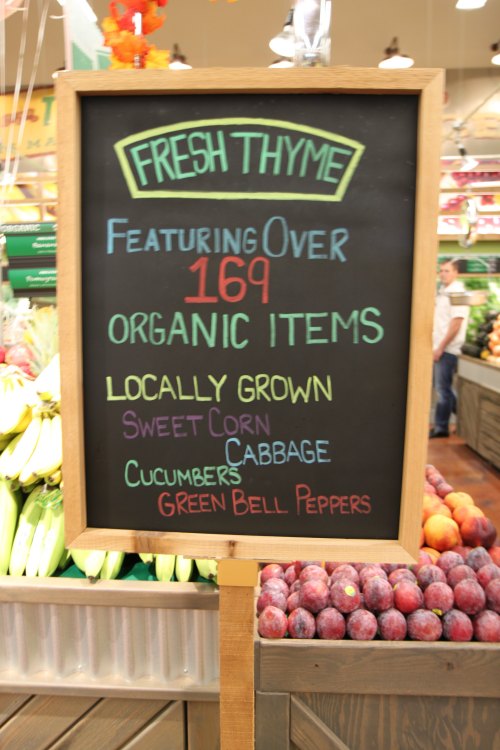 Natural & Organic Meat Prices
The week of the grand opening, natural boneless chicken breasts were around $1.57/lb, which I knew was just a special for the grand opening. However, I was pleasantly surprised to learn that a normal sale price on the same chicken is around $1.77/lb. I already stocked up on quite a bit of chicken during the grand opening week to make my kids favorite chicken Freezer Friendly Pecan Crusted Chicken.
Fresh Thyme carries their own natural deli meat in the Fresh Thyme line as well as carrying Boar's Head, which is a premium line.If you are a sausage lover, you will love the variety of seasoned sausage that is ground fresh in the store daily. Fresh Thyme also offers unusual meats that you may not find in your other grocers as well as grass fed beef products. (For example, the grass fed ground beef is around $2.97/lb.)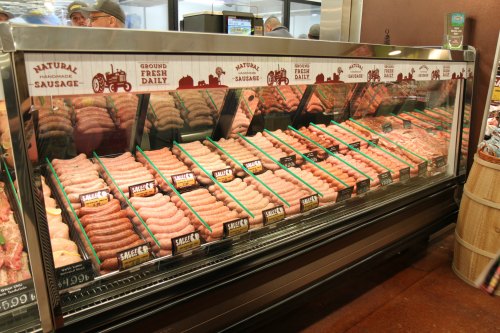 Freshly Squeeze Juice in Store
Oh, this is a lovely area that is very aromatic in the store – the juicing area!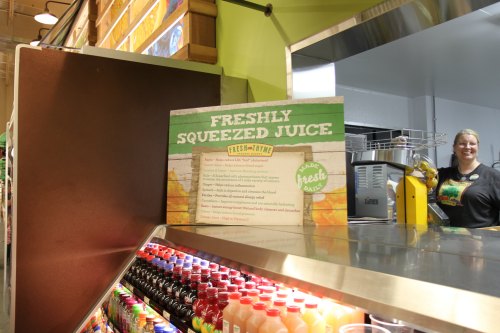 Bulk Bins
Bulk bins are a great place to try new things or to get a specific amount you need for a recipe. Why buy a whole container of Quinoa when your recipe only calls for half a cup. This can help you save money. There is a huge variety of items in the bulk section at Fresh Thyme including bulk oils and liquids.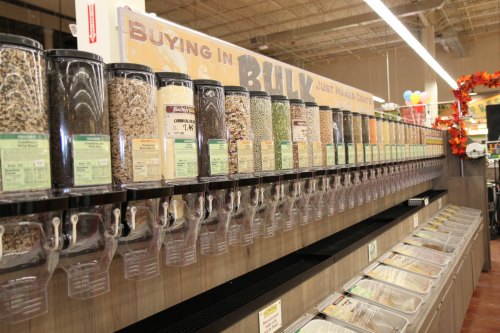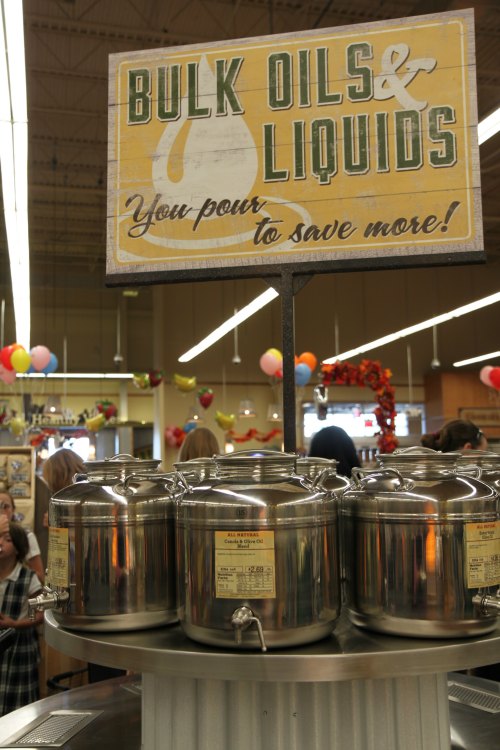 Build Your Own Pizza
You can build your own pizza in the Fresh Thyme Deli area. Choose your crust, sauce, meat, cheese, and veggies to personalize it for your family! The prices look good compared to what you will pay for take out pizza elsewhere. Plus, you can choose from unique toppings that you may not find at all pizza places.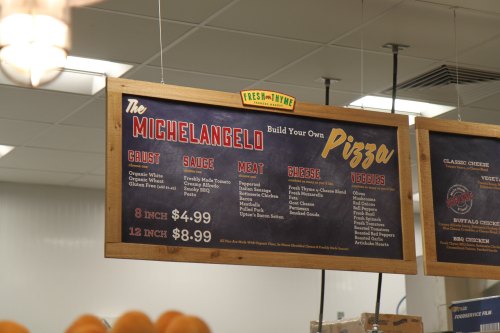 Markets in different locations may carry slightly different products especially local products to the area. The buying agent is always scouring the areas to find unique items for the local market. Sometimes they items are so popular they end up carrying the item at all their locations. Apparently, the salted Donkey Chips are a Chicago favorite that is a must try!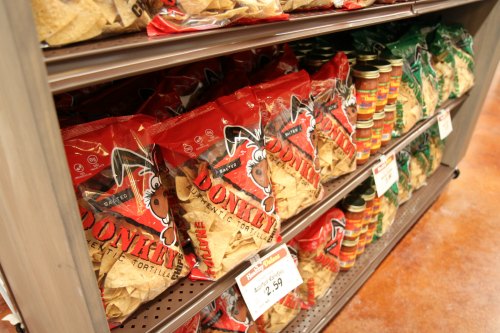 Do They Have Gluten Free Products?
Yes, Fresh Thyme carries over 1,200 Gluten Free items throughout the store and has a complete aisle dedicated just to Gluten Free products. They have you covered. Look for the specially market tags that state "Gluten Free."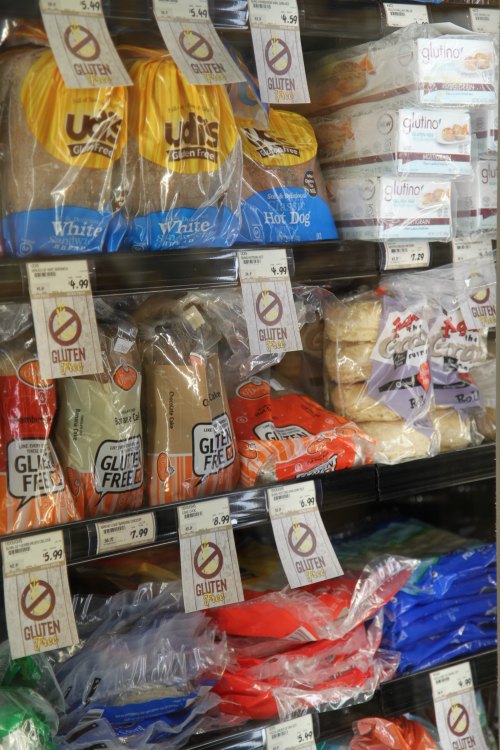 Personal Care
The personal care section offers natural products for your body, shampoos, conditioners, and more. Many of the items are cheaper than department store prices but better for you. Don't like something that you tried? I'm also a little leery to buy off brand names for fear I won't like it. At Fresh Thyme, you can bring your receipt and product back to the store for a full refund.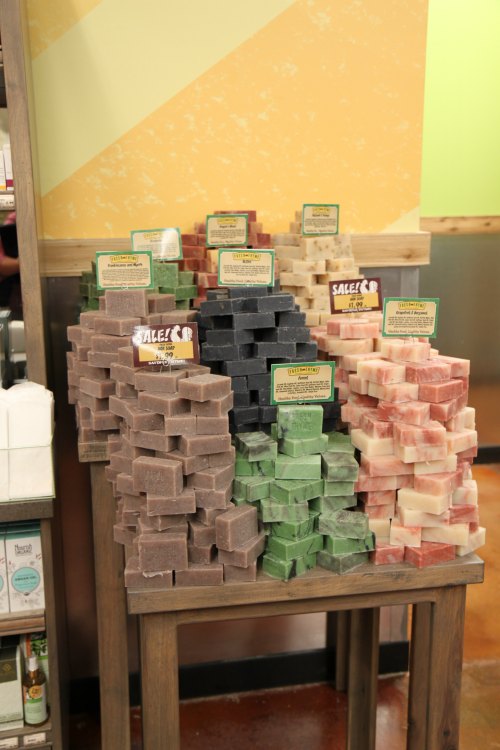 There are some really great products at Fresh Thyme…now I'm sure you are wondering, how can I save money while shopping at this fantastic store?
How to Save at Fresh Thyme
How Do They Keep Prices Low
One of my very first questions I posed was how does Fresh Thyme keep their prices low? They are able to keep their prices low by not charging vendors for shelf space.  They eliminated these in order to get the very best price to the consumer – YOU – while still offering fresh and healthy products.
Do They Accept Coupons
While I couldn't find any official coupon policy, I was told that Fresh Thyme does accept coupons.
Double Ad Thursdays
Every Thursday, the weekly sale flyers will overlap, which means you can save on the last week's specials and the current week's special.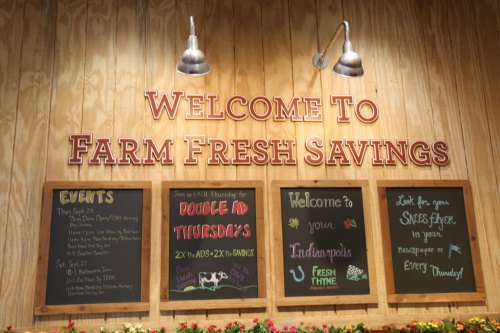 Sign up for the Email Newsletter for More Specials
Sign up for the Fresh Thyme newsletter for more deals and happenings.
Keep up to date on the new locations on Facebook – https://www.facebook.com/freshthymeindianapolis and https://www.facebook.com/freshthymew86th. #FreshThyme
Have you tried this new store? What are some of your favorite products and items?
This post was sponsored by Fresh Thyme. Rest assured, this Post was written by me and was not edited by the sponsor. Read more on my Disclosure Policy.