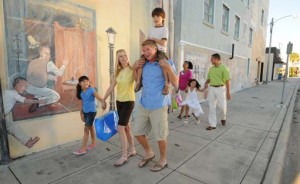 As a little girl more than anything, I wanted to visit Disney World. My parents were able to take us when I was about 10 years old and I still remember the magic of Disney World. I cannot wait to take my own children.
We had actually planned a Florida this spring break as have done almost every year since the kids have been in school. However, we decided to postpone our trip to a non-peak season.
Isn't Disney the main attraction in the Kissimmee/Orlando area for most people?  But did you know there is a ton of FREE, fun family things to do in Kissimmee beyond the theme parks? It looks like there is something for everyone in my family, probably yours too!
Lake Tohopekaliga: The lakes of Kissimmee are famous for their views and abundant bass. Did you hear that dad? (My dad and husband both love to go bass fishing!)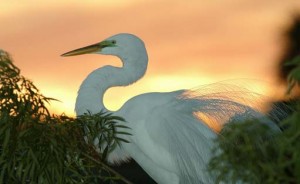 East Lake Toho in St. Cloud: FREE family fun centered around a beach, playground, and fishing spots. Sounds like there is a little something for everyone here.
Old Town Shopping, Dining, and Entertaining Complex: Admission is FREE. Then on weekends, the Old Town becomes a haven for car buffs! (Okay, my in laws would totally be into that!)
Downtown Kissimmee: View the Kissimmee Sculpture Experience. See artists's work on the downtown streets. (My mom would love this as she loves art!)
Lake Lizzie Nature Preserve, the Osceola County Environmental Center, and Wildlife Management Areas of Bull Creek, Prairie Lakes, Three Lakes, and Triple N Ranch: Take a hike, enjoy a picnic, and view the largest population of nesting bald eagles in the U.S. It is also one of the few re-introduction sites for the endangered Whooping Crane.
St. Cloud: For a little history, check out the city known as the "The Friendly Soldier City" due to the thousands of Civil War veterans who relocated to St. Cloud in the 1900s. Special events are held on a regular basis. Plenty of shopping, dining, and people watching to do in St. Cloud.
Any other tips for FREE and frugal family attractions in the Kissimmee area?
So know that you know some FREE things to do in Kissimmee, you have an opportunity to win a FREE trip! Kissimmee is giving away (3) weekend getaways (3 days/2 nights) for 2 and two weeklong vacations for 4. Drawing will be held on or around 4/1/2009, 5/1/2009, and 6/1/2009. The best vacations are free. So head over to Kissimmee and enter for your chance to win!