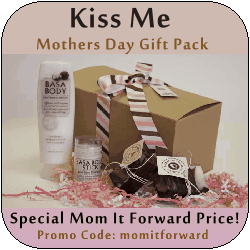 The Kiss Me Mother's Day Gift Pack from Basa Body is a great Mother's Day Gift Idea. Not only are the products wonderful (I'm basking in the coconut right now!), it also supports a wonderful cause – helping the impoverish in Kenya.  You can get this special gift pack for $26.99 with promo code momitforward which includes:
Basa Body Coconut Oil lotion (6 oz)
Basa Body Stick push tube (1 oz)
Mint Chocolate Truffle Soap (3 oz)
Cherry Chocolate Truffle Soap (3 oz bar)
Anyone who purchases a Basa Body or Coast Coconut Farms products and makes a $20 donation between now and May 12, will be automatically entered to win one of three prizes $250 Disney Gift Card, $150 Amazon.com gift card, or $100 Target Gift Card. The widget for donating is on momitforward.com.
::Additional Resources
Fundraiser FAQ
Basa Body Review Post