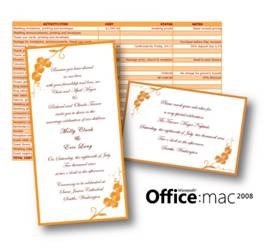 Hey Brides to Be! Looking to save big on your big day? Office Mac 2008 wants to help you simplify the wedding preparation process. What happens after the big day, well, that is all on you. (ha!)
There are some very nifty new features in Office Mac 2008 to help you create afforable and professional save-the-date cards, wedding invitations, reception place cards, wedding budget trackers, and more! By using the new "Publishing Layout View" you can easily create projects within a Word Document.I know how quickly these items can add up.
I played around with this new feature and was quite impressed. In that past, I've created invites and flyers in MS Publisher. However, I haven't always had it on every computer so creating them within a regular Word Document requires special skill.With the new "Publishing Layout View" you can easily customize those special projects.
You can easily download templates and Art for Office Mac 2008 at artofoffice.com.  It is where you can find the fun design shown above. Printed on quality paper, your invites will have a professional quality for a fraction of the price.
In addition to the fun creative projects you can make, you can also download the wedding budget planner to help keep your wedding finances on track!
WeddingBee.com & Office Mac have teamed up to offer Brides/Grooms a fabulous giveaway! Head over to WeddingBee.com for details on how to enter a giveaway to win a $1,000 Visa Card, a new Macbook, and a copy of Mac Office 2008. Ten runner up winners will win a copy of Mac Office 2008.
Microsoft Office: Mac 2008 has a promotion if you buy a new Mac from participating retailers you can save up to 50% off Office 2008 Special Media Edition. I'm not saying go buy a new Mac so you can use this Mac Office but if you are in the market for a new computer, Mac is the only way to go. We recently had two Windows based computers die on us, so decided to give Mac a try and I'm loving it. From what I understand, it will be hard for me to crash this computer.