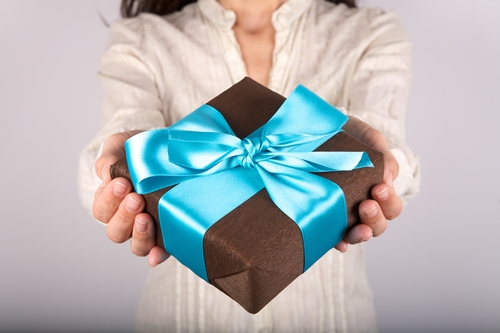 Buying gifts for your parents (or grandparents) shouldn't be this hard, right? You know them better than anyone and you love them, so you should have no problem coming up with something that is personal, thoughtful and unique. And yet, this isn't always the case. Finding a present they will truly appreciate and don't already own feels like a minor miracle. If you're feeling stuck, check out this list of seven unique gifts that parents and grandparents are sure to love.
1. Personalized Family Tree
For the sentimental parent, a beautiful print of a personalized family tree with the names of family members will definitely tug at the heartstrings. Visit a site like Etsy to create a personalized family tree. Put it in an affordable customized frame, or have the kids paint one of their own, and you have a present that your loved one is sure to love.
2. Kidoodles
For a unique way to share a grandkid's artwork, look at Kidoodles. This company takes a drawing and makes it into a wearable sterling silver or gold jewelry piece. Prices range from $60 for a single figure charm to $165 for a three to five figure pin. All you have to do is have your child draw a picture of himself with grandma or grandpa, send it to the artist and you'll get back a gorgeous, fun piece of jewelry that any grandparent will treasure.
3. Automatic Card Shuffler
An automatic card shuffler is a great gift for the avid card player. Not only is it thoughtful (shuffling gets harder as hands age), but it's also affordable and promotes a fun activity. These items are available at many stores like Walmart or Walgreens, as well as Amazon, and cost less than $20.
4. Senior Fitness Tracker
For the older parent striving to be more active, a Lively Wearable senior fitness tracker from GreatCall makes a great gift. The Lively Wearable has a sleek design that looks like a watch, doesn't require charging and is waterproof. Your parent can stay active with fitness tracking and interactive fitness challenges. The sitness tracker for seniors also provides peace of mind as it can connect to a smartphone in order to be used during an emergency. The urgent response button connects to a trained agent who will send the appropriate help.
5. Family Cookbook
Gather all those old family recipes in one place with My Family Cookbook's customizable recipe book. There is space for over 80 recipes and photos. Get it started by adding the dishes that have been passed down through your family, and then encourage your parent to add their special recipes. How can you beat a present that has the potential to become a valuable family heirloom?
6. Digital Photo Frame
Nixplay took the idea of the digital photo frame and improved on it. The best part is that your loved one doesn't need to be tech-savvy to use it. You and other family members can use an app to upload photos to the frame directly from your phone, giving your grandparent updated pictures without having to know how the darn thing works. It's a great way for them to see how much their grandchildren have grown.
7. Home Portrait
If your parents have moved from your beloved childhood home, they will more than appreciate a custom black and white illustration of the house where they raised their family. Cape Horn Illustration will capture the house in exact detail from a favorite photo. Complete the gift with a custom frame or a nostalgic reminder of their beloved home.
While parents and grandparents may be difficult to shop for at times, one of these gifts is sure to please them. Whether it's for a birthday, holiday or special occasion, consider buying one of these practical and thoughtful gifts for your loved one.
Did you enjoy this post? Find more money saving tips here.