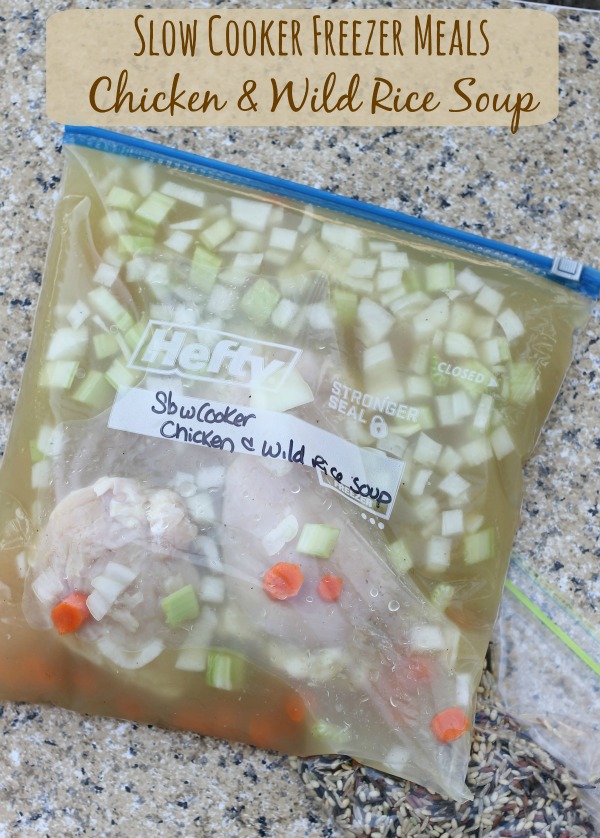 As temperatures drop it is the perfect time to work in some meals that can warm you up, like soup. This Chicken and Wild Rice Soup is full of flavor, warms up the belly, and is pretty darn good for you making it ideal for a fall or winter meal. I made this as part of the Slow Cooker Freezer Series and it turns out fabulous! Warm and comforting your whole family will slurp down a bowl of this tasty soup and ask for seconds. It carries great in a thermos type container for lunches the next day as well for a 2 in 1 meal that makes the work lighter and mom a hero.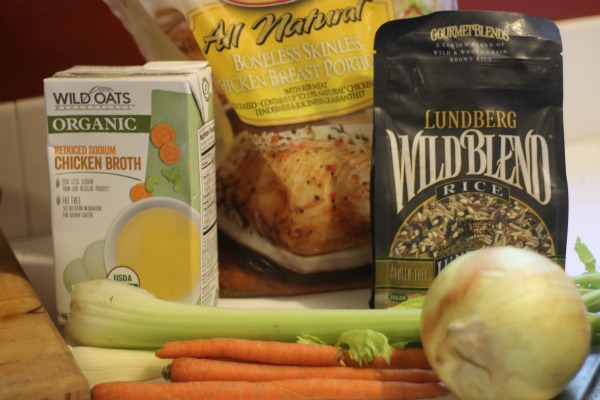 Chicken and Wild Rice Soup | Freezer to Slow Cooker Meals
Ingredients
1 lb. chicken breasts
5 cups chicken broth
2 cups water
1 cup wild rice
2 celery stalks
3-4 carrots
12 tsp. minced garlic
½ onion
½ tsp. parsley
½ tsp. oregano
½ tsp. salt
1 tsp. pepper
Instructions
Freezer Prep:
Label bag with contents, date, and cooking directions.
Peel and dice carrots.
Peel and chop onion.
Dice celery into small pieces.
Place chicken breasts in a gallon freezer bag .
Add broth, garlic, prepared veggies, and spices.
Press air out of bag and close securely.
Pour wild rice into a small separate sandwich sized bag, and clip or rubber band small bag to gallon sized bag and place in freezer. If you add rice to soup mix now it will become sticky and gummy.
Cooking:
Thaw gallon freezer bag contents.
Pour contents of freezer bag and bag of rice to slow cooker over low heat for 7-8 hours.
After about 6 hours remove chicken from slow cooker, allow to cool then shred chicken with 2 forks.
Return chicken to slow cooker and finish cooking.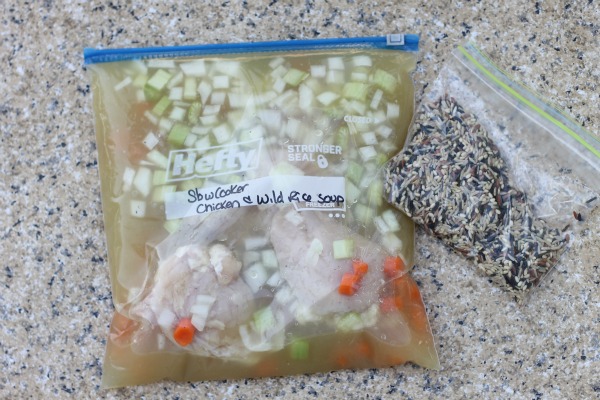 View the Recipe Index for a complete list of recipes. For the most recent vegetarian recipes posted on the blog, go here. To view all the recipes post on the blog, go here.