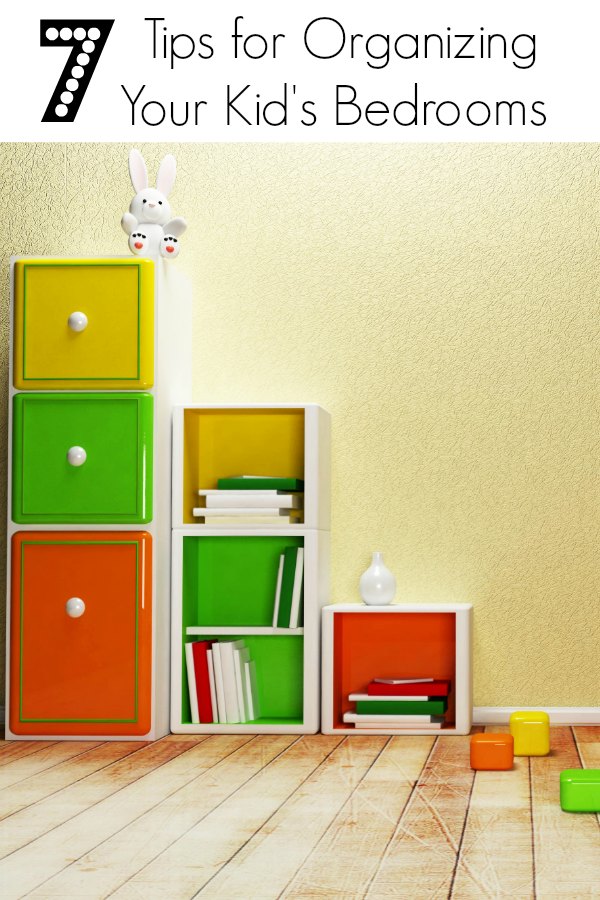 One of the biggest cleaning jobs in your home is your kids bedrooms.  Here are 7 Tips For Organizing Your Kids Bedrooms to make cleaning much easier on you and them.  Not only will these tips help keep their room clutter free, but they will help your relationship since you won't be nagging them to pick up all of the time.
 7 Tips for Organizing Your Kid's Bedrooms
Purge Clothing & Toys:  Often times the biggest challenge to keeping your kids rooms organized is the clutter and excess junk laying around.  Sort through their clothing, as well as their toys and purge items that don't fit or are no longer wanted or needed.  You can donate, or sell them and use the earnings to help pay for other upgrades.
Use Stuffed Animal Hammocks:  As your kids get older, they may not play with the dolls or stuffed animals but still want them.  Use the old school stuffed animal hammock that hangs in the corner of their room to help cut back on clutter in the room and keep them neat,clean and organized.
Install Shelving & Bookcases:  Books, collections, even clothes can all go on shelving and in bookcases to organize clutter.  Install a small shelving system for school clothes so you and kids can pick out a week of clothing with ease, and then have it handy to grab and go each day.
Buy A Sorting Hamper For Their Room:  Dirty clothes scattered around a bedroom are often the worst thing to deal with.  Invest in a 2-3 compartment sorting hamper and place in their bedroom.  One compartment for darks, one for whites and one for delicates or items to hand wash.  No more laundry on the floor.
[easyazon_block add_to_cart="default" align="center" asin="B0072CPU4K" cloaking="default" layout="top" localization="default" locale="US" nofollow="default" new_window="default" tag="06757899i-20″]
Use Under Bed Storage:  Store shoes and out of season clothing in under bed containers.  This keeps everything organized, but out of the way until next season when you can pull back out and wear or use.
Use Storage Bins On Shelves:  Small toys, blocks, figurine and even things like markers and coloring books are bet stored in small storage bins.  Check your local dollar store for inexpensive plastic bins, or invest in washable canvas bins that will last longer.
Hang As Much Clothing As You Can:  One of the biggest complaints in kids bedrooms is keeping their clothing in control.  Rather than folding everything and putting into drawers, hang as much as possible.  It is much easier to keep hanging clothes neat and orderly than it is to keep drawers of clothing orderly.
Put these tips for organizing your kids bedrooms into practice and find yourself less stressed when you enter their rooms.  A few simple tricks and added items in their bedrooms can give you a lot more stress relief and consistently organized bedroom.
Are you interested in actually getting organized for 2015?  We have worked extensively on a series to help you get organized in 52 weeks. If you would like to receive these emails about how to get your home organized in 52 weeks, you can sign up to receive just ONE email per week. You can sign up at any time during the year without missing a beat.
Did you enjoy this post? Find more money saving tips here.