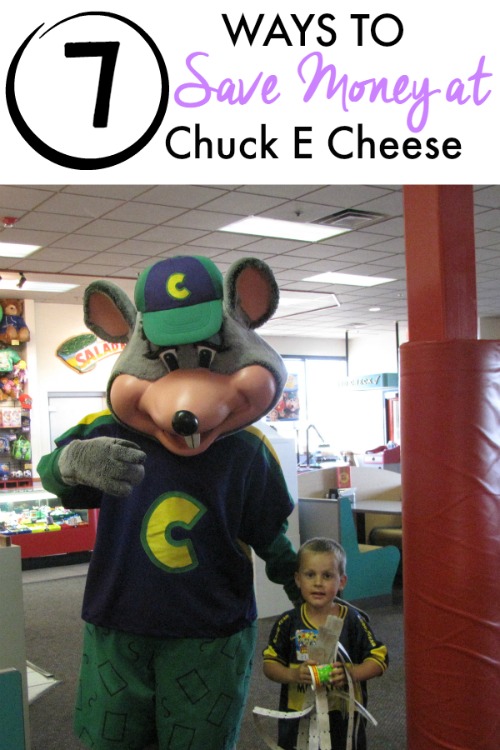 Do your children love playing at Chuck E. Cheese? It can be a fun place for them to blow off steam, get active, and enjoy a pizza while they are at it. But you may have noticed, all this fun comes at a price. If you love Chuck E. Cheese but not the cost, take a look at these helpful 7 ways to save money at Chuck E. Cheese. With a little planning, you can in fact get more fun for your buck!
1. Opt for quarters instead of tokens.
If you purchase tokens, they cost about .33 cents each, or 3 for $1. The games are designed to take either tokens or quarters however. This is not a hack, this is something the employees will tell you. When you use quarters instead of tokens, you get four rides or games for a buck instead of 3.
2. Take the customer satisfaction survey.
When you buy your food, you will see a survey on the receipt. Take the survey while your children play (it is only a few minutes long) so you can then redeem a code for free tickets or tokens.
3. Use those coupons.
There are tons of places to find Chuck E. Cheese coupons. Chuck E. Cheese offers coupons via their website, on cereal and snack boxes, the Sunday paper, and on your smart phone. Before you order have one of these coupon sources in ready so you can save a few dollars on your purchase.
4. Buy small drinks, get free refills.
Remember that the drinks at Chuck E Cheese come with free refills. Opt for smaller, kid sized drinks so you can pay less but still enjoy unlimited refills.
5. Opt for a meal deal.
Avoid buying food and game tokens ala carte. It is cheaper to get one of the premade deals that the restaurant offers. You can easily save a few bucks right off the top, plus save even more when you use one of the coupons as mentioned above.
6. Use the free reward printables.
On the Chuck E Cheese website, you can print off free reward charts. When you children fill out these charts, they can earn Chuck E Cheese freebies such as tokens and tickets. Print these out and use them so when you go, you get the freebies you deserve.
7. Get on their mailing list.
Take a minute to head over to the Chuck E. Cheese website and get on their mailing list. They will send you special offers, coupons, even freebies. It only takes a second and can really pay off.
Chuck E. Cheese is where a kid can be a kid, and now you know that you don't have to go broke in the process. Give these tips a try and save!
Did you enjoy this post? Find more money saving tips here.