The countdown is on – just 5 days until Christmas. Yikes! Are you ready? Have you planned out your holiday menus and shopping lists? I'm embarrassed to admit that I hadn't even made a really grocery trip the entire month of December so we needed to get quite a few things in addition to the things we will need for the upcoming holiday parties.
Even though at all of our Christmas parties, we do pitch-ins, the expenses can still add up whe
n you are pitching in at multiple parties. During this season, many of us are already tightening our pocket books and don't have time to do serious grocery coupon shopping. This is why I LOVE ALDI and it was the first store I visited over the weekend. Save up to 50% on your groceries without sacrificing quality. Save time too because you know you are getting the best price without having to clip a single coupon!
As you know, we've been loyal ALDI shoppers over the past year. We have found that the items we purchase are just as good or even better than the brands we were previously purchasing. During the holiday season, ALDI has so many holiday products for your holiday needs and no one will ever know that you paid half price or less for your holiday goodies!
During my recent trip to ALDI headquarters, I loved the holiday entertaining tips from Janice Stahl. Here's a few of her simple yet brilliant tips:
Keep it Simple: Less is more with your menu and decor.
Somewhat Homemade: Combine a homemade recipe with a pre-made item to save time and money. For example, the Appleton Farms Spiral Sliced 1/2 Ham glazed with apple cider and balsamic glaze.
Small Bites: A new trend this holiday season is to serve small bites at your party. This would be perfect time to serve a few homemade gourmet appetizers along with artisan cheeses. My ALDI favorite is the Harvest Cheddar Cheese, which I couldn't find in my store on Sunday.
Some ALDI locations sell wine at a great value – $5 or less for many of the varieties. This includes my favorite the Landshut Riesling for just $4.99.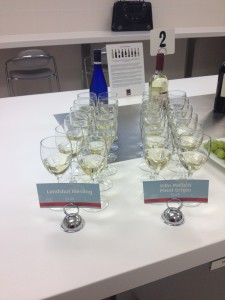 Decor is so easy too! Use any clear glass containers you have or pick some up at Goodwill for cheap. Fill with Starlite Mints ($0.89) or sparkly ornaments ($9.99) or anything that fits that particular season. This is reusable for the next holiday as it won't be dated by a cheesy Christmas theme that you tire of and can also be used for birthdays and other holidays.
My family LOVES cheese. I love that you can buy specialty cheese for a fraction of the cost from other stores. Cheese like Brie ($2.99), Smoked Gouda ($2.99,) or Select Havarti ($2.99.) My favorite this season was the Apple Harvest Cheddar (dark orange below), which I couldn't find in my store this past weekend. Yes, I said that again but I really, really wanted it!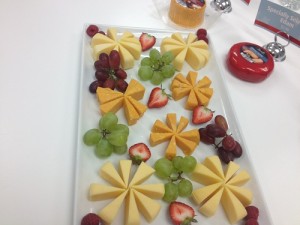 You can view many of these  great items and more in the ALDI Holiday Catalog which is posted online here. You can also find ALDI on Facebook.
Are you still working on your holiday menu plan? Will you be trying out ALDI this year? 
Products were provided to me by ALDI in order to facilitate this review. Post was written 100% by me and was not edited by the sponsor. Read more on my Disclosure Policy.