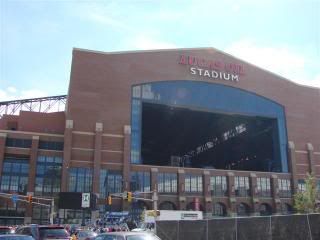 Are you ready for some football???? I am! We are big Colts/Manning fans in this household! Our NOT a Bargain, is Colts Season Ticket Holders. This is the first year in the new stadium, Lucas Oil Stadium. Can I say, I have mixed feelings?!?! I hate that we are paying more money for a worse view (still okay but not as good as before), congestion on escalators, confusion in abundance, and this one is petty but for $750 MILLION couldn't they budget in auto flush toilets & sinks? Positive things are: Wider aisles, cup holders, actual seats instead of benches, and more concession/restroom facilities.
Meijer is a Sponsor +++++++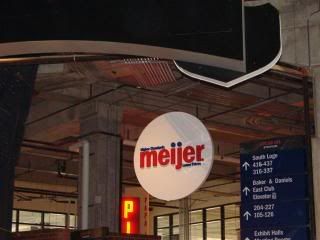 Our View of the Field ———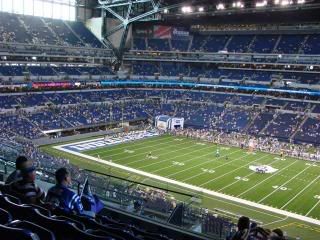 Stalkers? Come find us here ++++++++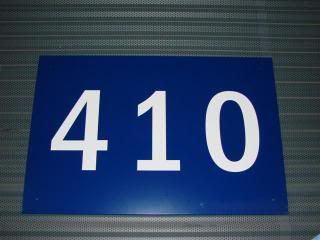 Our seats from the Field (see that dark, scary section under the concrete, that is us.) —— Oh, not above the Sprint Sign, that is Suite Seating, we are below them.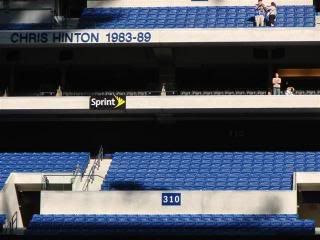 No auto flush toilets BUT we have fancy pants Colts Logo on our chairs! ha ha! +++++++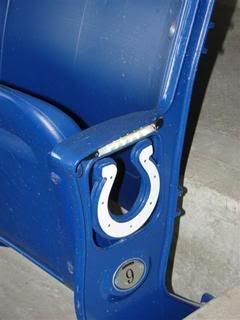 This is probably what cost so much and it is cool! But I wonder how many games they will actually have it open for? Maybe the first month? ++++++++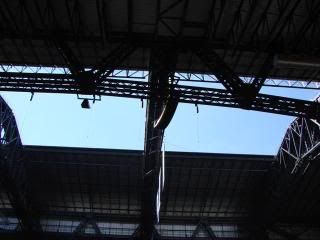 On Our "Free" Tour, we did get to go in the locker room and even see where Peyton Manning will shower. ++++++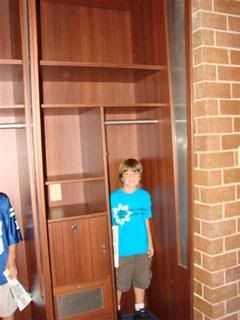 This goofball is so excited to be on the field. ++++++++++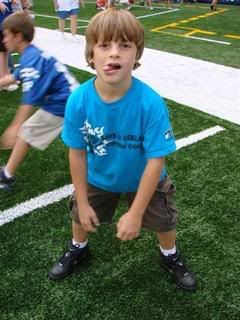 Here are some pictures from the very first game the Colts played where we got smoked by the Buffalo Bills:
See all the congestion by the escalators? ————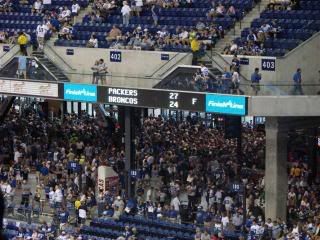 Crazy, 2 escalators for everyone, only 2 people wide. ——— BTW, no stairs going to the second level. Only elevators but no one seemed to know where those were. It took me 20 minutes to find someone who could tell me how to get to the Emergency Exits…and I asked 4 people in yellow jackets. I'm paranoid like that but I did figure out you can go down the stairs and it will take you to the street. No entry back in.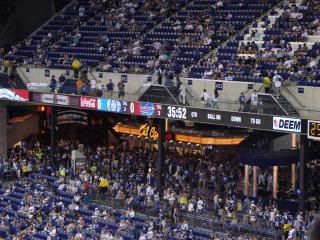 Amanda Obermyer, Rocker Nurse performed the National Anthem. She did an awesome job! +++++++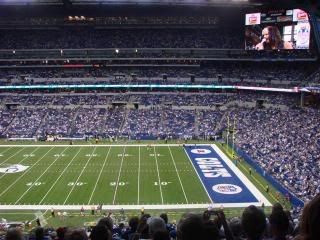 My daughter's first Colts game. I think she enjoyed it. She wanted to come to a real game next time. Uh, sorry, honey, not at this price! +++++++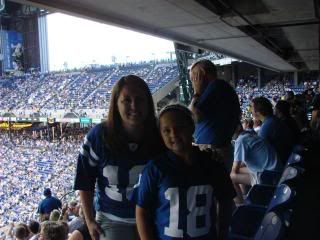 If you are interested in some free family fun, you might check out Chief Family Officer's blog about playing Fantasy Football with your family and you could possibly $25,000 towards a 529 for your child!