Okay, I just HAD to have the Ped Egg. No deal, no bargain but I've been wanting it and have NEVER seen it on sale. So I just did it.
$38.19 out of pocket and I submitted for $16.97 in rebates = net $21.22 – For $46.93 in product (It is nice that you can do the rebates online – remember it is still one submission per month.) + 10% bonus for requesting a gift card.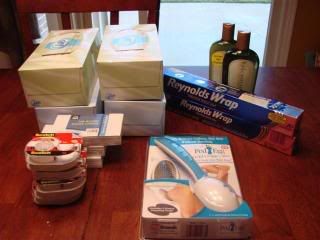 I will say I'm not that impressed with the Bio Vegan Shampoo & Conditioner. I wouldn't ever buy it. It doesn't make my hair feel silky after washing.
IF you are interested in Walgreen's deals, check out Mommy Snacks. I'm not going to try to reinvent the wheel here on the Walgreen's deals. Also, I don't regularly shop there so check out her blog for all the details on the latest deals!
Check out Centsible Sawyer's Drugstore Divas for more Show & Tell.