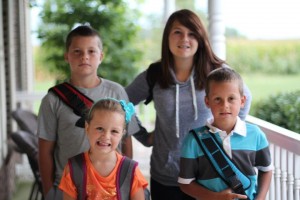 It's back to school time! Are your kids back in school yet? We are almost finished with our second week of school. It is a very exciting time for us this year as we have one who started high school, another who started middle school, and the youngest went from half day Kindergarten to full day 1st grade.
If your kids haven't started school yet, you are probably busy gathering school supplies, getting haircuts (I have a deal for you below), inventorying your child's clothing, and all the things parents need to do to get ready for school.  A few observations I've noticed these past couple of weeks:
Day One: The easiest day of the year to get kids ready for school. Kids wake up in the morning with barely a nudge. No whining or crying or yelling from anyone. Brush your teeth? YES – with no arguing.   Brush your hair? YES – with no crying when mommy brushes it. No fights amongst the kids. Ah, this is would be nice if it were the year long attitude. However, it won't last.
Day Two:  Kids are worn out from the previous full day of school. Poking and prodding is necessary to wake up. Crying, screaming, fighting from at least one child.
Day Three: Even more downhill. Too many evening activities keep us out too late.  One of the little guys even fell asleep as soon as he got home from football practice.
Day Four: Acceptance. Not near the excitement of Day 1 and definitely not the crying of Day 2.
According to my observations it takes about a week or so for the kids to accept the situation of being back in school. Hair brushing and brushing the teeth seem to be the two things most fought over in the morning. Oh, and where are my socks, WHERE ARE MY SOCKS!!!!
I'm sure many of you are going through the same things! If not, you will be soon. Part of getting ready for back to school are haircuts, which can get expensive if you have multiple kids who need haircuts. Right now, you can get a fantastic deal on hair cuts for kids and adults.  Join the "Haircut Coupon-a-thon" to get $7.99 haircuts ($9.99 in select markets.) Just enter your zip code on the widget below and select your coupon. The coupon is valid through September 30, 2012. Get a fresh look for fall.
The Regis Family of Brands have  fifteen salon brands and over 4,500 locations across the United States, Canada, and Puerto Rico. These salons are full-service salons offering services beyond haircuts such as highlights, color, perms, waxing, and more. These participating salons all carry a wide range of professional haircut products from your favorite brands like Biolage, Redken, Paul Mitchell. Get back to school ready by stocking up on your favorite hair care essentials.
Most of these salons do not require an appointment so you can just walk right in when it is convenient for you.
Get your coupon for a $7.99 or $9.99 haircut depending on your location. Find more information http://beautybargains.tumblr.com/.

Trouble printing coupon?  
Email departmentcs@regiscorp.com with the salon brand you'd like to visit and we'll send you a coupon.
I was compensated for writing this blog post while participating in the SocialMoms and the Regis Family of Brands blogging program. The opinions and ideas expressed here are my own.