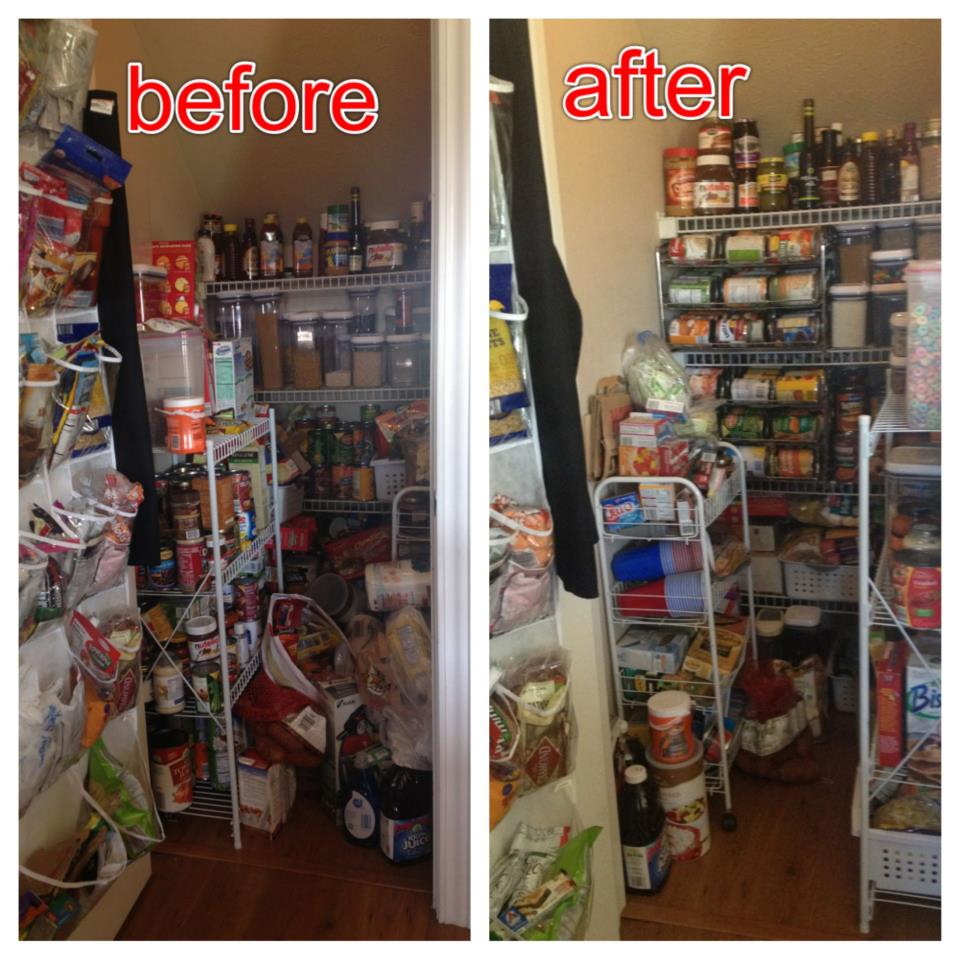 Pantry clean out and challenge time. Not only was our pantry out.of.control as you can see from the before pictures, we were buying food items that we already had in our pantry. This was very annoying and not money saving.  I keep wishing for a bigger pantry but since that's not going to happen nor would it probably help, I need to get control over the pantry I do have. It's still not perfect but that's where the pantry food challenge is going to come in!
I spent almost an entire day removing everything from our pantry. I combined some boxed items into stackable OXO food organizers, which also are much more eye appealing too. I also put in the Organize It Can Rack that I purchased from Zulily a few weeks ago, which is no longer available. There is a great deal on Amazon right now on these pantry can racks. Mine hang over the shelf just a bit but so far it's working nice. If you don't have multiples of the same canned item, you probably don't want to use something like this but for canned tomatoes, veggies, fruits, cream soups, and such this is perfect as we have multiples of all of these items.
There was a few items found that are perfect for donation. For example, crunchy peanut butter that I paid less than $0.75 for, who knew that the people in my household absolutely hate crunchy peanut butter. Not me. So that is being donated. There was a bottle of Welch's sparkling juice that someone opened, drank half of the bottle, and then put back into the pantry.  Huh? Yeah, ruined – trashed. Other than that, just the normal wrappers, crumbs, etc.
My family's reaction was excited "we can walk in our pantry now," "if there is a tornado, we can hide in the pantry," "wow." Everyone was pretty excited to see a organized and clean pantry. Now let's keep it that way guys!
Now to the challenge….
I'm going to try really hard to cook from our pantry for the next 2-3 weeks to clean it out a bit. We will still need to buy some of the staple items like bread, milk, fresh fruits and veggies. However, there is so much that we need to use in our pantry that I'm making it my mission to start using it up before the holidays. This is not only money saving but it will help reduce some of the clutter we have in our kitchen!
We have so much pasta, beans, and canned tomatoes so this may get really interesting!
Tonight's dinner…..
White Rice (pantry) w/leftover vegetables from the refrigerator
Cut up Chicken – pan fried in canola oil plain or with fish batter from the pantry (from a fishing trip my husband went on years ago.)
Morningstar 'Chicken" for us vegetarians
Pampered Chef Beer Bread was the appetizer for the kids. Thank goodness I made this earlier in the day because our youngest was starving and the bread was a nice touch to keep her settled down.
Then later, we made confetti cake mix in ice cream cones…topped with icing found in the pantry. I'll share those pictures later as they were so pretty they deserve their own post.
I'll be sharing more of our pantry challenge photos, recipes, and ideas in the coming weeks! Stay tuned….