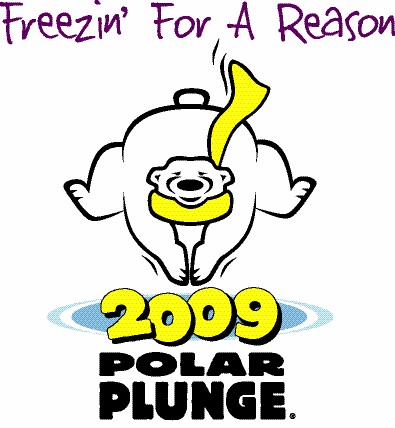 Some friends of ours volunteer with the Special Olympics. This is great organization to build self esteem and friendships for children and adults with intellectual disabilities. They provides year-round sports training and athletic competition in over 20 Olympic-type sports for over 10,000 people in Indiana alone. Last year during a high school basketball game, they introduced the participants during half time and you could see the joy and excitement in their eyes. I salute those who dedicate their time to volunteer as coaches and other helpers for this organization!
Currently, they are working on raising money for the Polar Plunge.  If you don't know what the Polar Plunge is, participants who raise $75 or more get to take a "plunge" in Indiana's winter water! Sounds like fun, eh? So help me send a friend into the the warm waters (bwhahaha!) of Indiana this winter by donating HERE. Every dollar counts!
You can watch a video of some of these crazy folk dipping for a good cause below. I personally can't decide which is better, stripping down to boxers/bathing suit or leaving clothes on? No thanks but some brave souls will do anything to raise money (so make it worthwhile for them and DONATE!)
Special Olympics Indiana operates as a 501(c)(3) non-profit organization. No goods or services were received in exchange for your contribution and it is tax deductible.