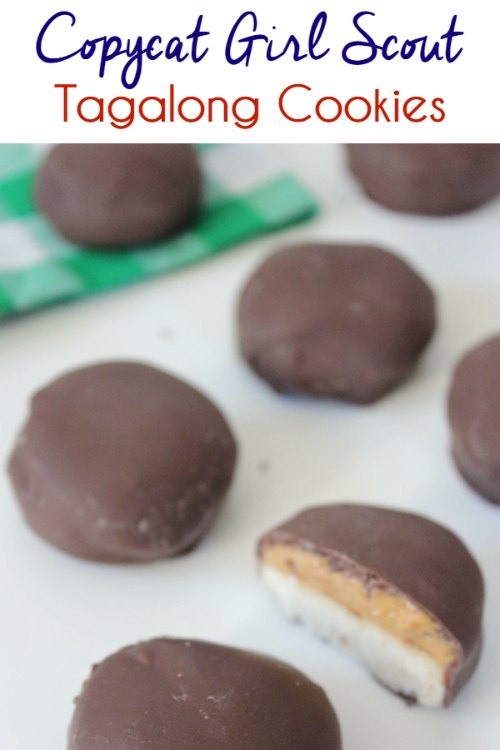 What if I told you that you could enjoy Girl Scout cookies all year long without having to purchase hundreds of boxes ahead of time? I'm here to tell you that you can make your own homemade Copycat Tagalong Cookies that will taste just as good as the boxed version. I would still encourage you to support the troops and buy a few boxes of your favorites for convenience.
I love copycat recipes because they cost just a fraction of the store bought or restaurant version. Many of the ingredients you need for this homemade Tagalong cookie recipe are most likely already in your pantry. There are some versions of this recipe on the web that have less ingredients, we believe making the entire recipe from scratch is well worth the effort.
As a child, Girl Scout Tagalong Cookies were my favorite. With the cookie coating, peanut butter inside, and cookie base, they have a delicious flavor. Here's a little secret, I will share with you. I even had a special way of eating them by scraping all the chocolate off with my tongue and teeth and then allowing the rest of the cookie to just melt in my mouth.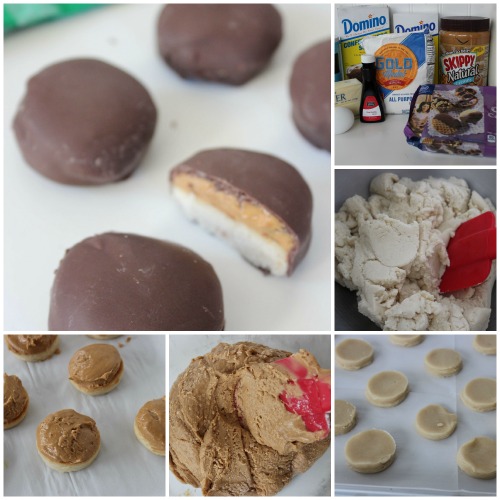 Try this recipe for yourself at home and see what you think! You may even like this version better than the original.
Print
Copycat Tagalong Cookies Recipe
---
2 cup

Flour

1 cup

softened Butter

1/2 cup

Sugar

2 tbsp

Milk

1/2 tsp

Salt

1/2 tsp

Vanilla

1 1/2 cup

Peanut Butter

3/4 cup

Powdered Sugar

8 oz

Dipping Chocolate
---
Instructions
Line baking sheet with parchment paper.
Preheat oven to 350.
Cream together butter and sugar until fluffy.
Gradually add in the flour and salt.
Add the vanilla and milk and mix until blended.
Roll out dough to 1/4″ thick and cut about 2″ round cookies.
Place on prepared sheet.
Bake for 12-15 minutes, until the cookies are lightly browned.
Leave on the baking sheet for 2-3 minutes before transferring to cooling rack.
Mix together the peanut butter and powdered sugar.
Line baking sheet with parchment paper.
Spread the mixture on top of each cookie and place in freezer for 10 minutes.
Melt chocolate by microwaveing 45 seconds, stirring and repeating until melted and smooth,
Dip cookies in the chocolate and lift out with a fork shaking off excess.
Place the cookies on prepared sheet and allow to set.
---
Recipe Card powered by
View the Recipe Index for a complete list of recipes. For the most recent vegetarian recipes posted on the blog, go here. To view all the recipes post on the blog, go here.