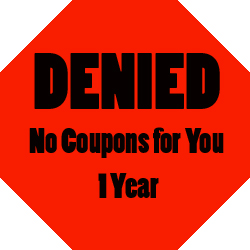 Recently a good friend emailed me a page of coupons for a FREE bag of Doritos (up to $5 value). This person meant absolutely no harm from this coupon and thought they were passing along a great coupon. It happens and I felt like the grinch responding the coupon was a fake. However, I couldn't not say anything knowing that it wasn't a legitimate coupon. This particular fraudulent coupon has been widely circulated around the internet and in email.
Now that you know, please do not use this or try to use this coupon or any coupon you feel might not be legit. The store you shop at will not get reimbursed, which leads to stores being suspicious and strict on all printable coupons including legitimate coupons! Plus, millions of dollars are lost by companies each year from these fraudulent coupons, which is then passed onto the consumer.
If you did use it without knowing it was a counterfeit, here's a few tips to spot fakes in the future:
FREE Product coupons which come in PDF format or a .jpg, .png, .gif extension. Normally, companies will not distribute any type of coupon in this format as it can lead to abuse and fraud.
No expiration date. Almost all legitimate coupons have a valid expiration date.
No barcode on the coupon.
Company information is not clearly listed on the coupon.
Misspelling on the coupon or in the fine print.
Coupon comes from a questionable source.
You can visit this page of the Coupon Information Corporation to see the latest counterfeit coupons that have been flagged. While mistakes can be made by anyone, I try my best to ensure the coupons I post on BargainBriana.com are legitimate coupons. I use reputable coupon sources such as the major online printable companies such as RedPlum.com, SmartSource.com, Coupons.com, Bricks, and other manufacturer's links.