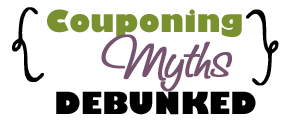 One question I've been asked numerous times is if buying in bulk saves more money. One of these days I'll do a more "official" study but just glancing at unit prices at the warehouse stores and on the bulk aisle at the grocery, I say more often than not, you save buy NOT buying in bulk on certain items. Part of this is because you are unable to use coupons at the warehouse type stores or are only able to use one coupon on multipack items.
For example, we had a short shopping trip today and wanted to pick up some toothpaste because as much toothpaste as we have in our stockpile, we really prefer Crest Pro Health over all the other brands. While, I would normally wait for a sale, I felt we could a splurge a bit on the toothpaste which we both prefer.
Sounds hilarious, SPLURGE on toothpaste.
However, I still did want to get the best possible deal even without coupon, Extra Bucks, or some other kind of savings. We knew we wanted to purchase two tubes, so we started to reach for the two pack – $7.08 for (2) 6.0 oz. Crest Pro-Health or $3.54/each. These caught our eye first because they were at our eye level.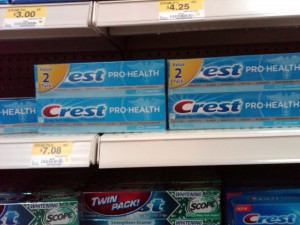 Then we looked up, and we could buy the exact same product separately for $3.00 each – exact same product except NOT prepackaged.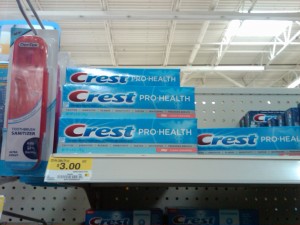 Lesson Learned: Look up and down before grabbing the first item that catches your eye! We save $1.08! While, this may sound like a little a $1 every shopping trip could add up! In this case, buying in "bulk" would not have been beneficial to our pocketbook.

Have a coupon myth you would like debunked? Email me at bargainbriana@gmail.com.