September is National Preparedness Month. I will be joining the Clorox Company and  Consumer Queen along with several other bloggers to help spread the word about Emergency Preparedness. Are you prepared?
Disasters can happen quickly without warning as we have seen with the Wild Fires in the West and the Tennessee flooding to name a couple most recent disasters. The most important steps to staying safe is being prepared BEFORE an emergency occurs. Many of the items you would need in the case of an emergency, can be stockpiled for cheap or free when you watch the sales and utilize your coupons.
When designing your emergency preparedness plan, you can implement the following three easy steps:
Purchase or build an emergency preparedness kit – Your kit should house enough supplies to last your household a minimum of three days for evacuations and 2 weeks for emergencies at home. Next week, I'll offer specific tips on building a disaster kit with your family. Households should create or purchase an emergency preparedness kit with enough supplies for everyone to last three days for evacuations and two weeks for emergencies at home. Include things like: water, non-perishable food, flashlight, radio, first aid kit, a multi-purpose tool, important medications and copies of personal documents. You may also include household liquid bleach such as Clorox for cleaning and disinfecting and emergency water sanitation.
Make an emergency preparedness plan – Schedule a meeting in your household to discuss what to do in case you are separated during an emergency. Choose two places to meet – one right outside the house and the other outside your neighborhood. Be sure to practice and review the plan twice a year!
Get educated – Get to know the types of disasters (e.g. hurricanes, floods or forest fires) prevalent in your area so that you can better tailor both your kit and plan. Find out how local officials will contact residents of your city to advise of important safety information. AND, get first aid training. Learn critical techniques like CPR and how to use an Automated External Defibrillator (AED).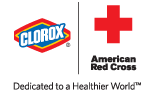 For more information please visit www.clorox.com/redcross and download the preparedness guide: Prepare Yourself Now for Peace of Mind Later.