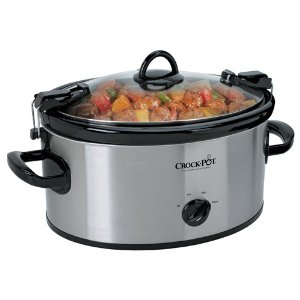 Crock Pot Girls is a brand spankin' new Facebook page that has exploded within the last couple of weeks. Just hit refresh on the Facebook page to watch the numbers grow. It is amazing and I think a FREE ebook for Holiday Crafts!
This indicates people are excited about Crockpottin' and sharing recipes. My favorite recipe to make in my Crock-Pot is my Crock-Pot Creamy Corn, which is so easy and tasty! I also have a new recipe up to kick the canned bean habit. This Crockpot Refried Beans recipe is so easy and customizable to what is in your cabinet.
I love to use my Crock-Pot for cooking dried beans, especially black beans.  A few weeks ago, I made a bag of dried beans by first fast soaking" them. Then I used a few peppers from my garden, which is actually just a few plants in my landscaping, and added a packet of taco seasoning and red pepper. I cooked in my Crock-Pot all day long. They were delicious and I was taking them to my aunt's house for Taco night.
Of course, I cook from scratch and it doesn't turn out. The beans turned out fabulously. However, I do not have a handy dandy Cook 'n Carry Crock-Pot, which is now on my wish list.
Looking back the story is almost funny…
I was driving extremely cautious on my almost seven mile drive to my aunt's house. Since there was some type of gas leak on the main highway, I took my county road all the way to "town." Thinking of my precious beans, I was driving around 45 mph.
Since our road was now being used a parallel "highway" since the main road was closed, some impatient driver didn't think I was going fast enough, tailgated me about a mile until we came to a stop sign, and then tried to pass me on a road that was not really meant for two cars to drive down it comfortably and proceeded to cut me off after passing me.
Needless to say this rattled me and caused me to veer and slam on my brakes.  At that moment, I screamed inside my head, my beans. Too late. Almost the entire pot of beans was now scattered in my vehicle. It took several days of cleaning, a whole can of carpet cleaning, and lots of airing out to get the stench out of my car, which conveniently I couldn't smell at all.
I wish I could say this was my first Crock-Pot vehicle foul. There was an incident with my creamy corn in the Crock-Pot a summer ago….we won't even go there….
I need a  Cook 'n Carry Crock-Pot, right?
The Crock Pot Girls have several recipes on their website as well as their Facebook Page. Also, you will want to check out 365 Days of Crock Pot, which has a ton of recipes on it and Happy Housewife!
Find more recipes I've posted in the Recipe Category or find meatless recipes (usually with a meaty version too!)
Do you Crock-Pot? What's your favorite thing to cook in the Crock-Pot?