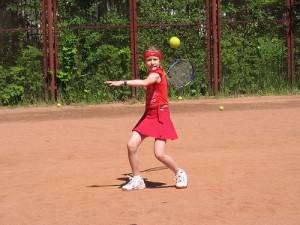 With summer wrapping up and fall weather rolling in, now would be a great time to get outside and play some tennis.  You can make a great day of playing tennis with a friend, significant other, or child.  Many local parks and schools have public tennis courts available.  Of course, remember your manners if a team or others are playing, but if you can find some space you may as well go out and enjoy yourself!
Although keeping score isn't the only way you can enjoy this sport it may be fun to learn some of the terms before you hit the court. Terms to know:
Match: Best of 3 or best of 5 sets
Set: First to win 6 games (must win by 2 games)
Game: First to four points (must win by  points)
Game Scoring:
LOVE–  0 Points
15  –       1 Point
30   –     2 Points
40    –    3 Points
Game Over  – 4 Points (unless tied= Duece)
Server states their score first.  For example, "Love-Love" would mean the score is zero to zero.
While I'm not a tennis pro, I do enjoy playing this game.  We like to play for fun at the Gulf Shores Surf & Racquet Club in Gulf Shores, Alabama when we vacation there.  Also at home in Indiana my little brother and I play tennis out in the street just to enjoy fresh air and get moving.  So with or without a court, this is a sport worth trying!    Have any suggestions for us?
Try This!
You can get motivated and read up on the latest tennis new on TENNIS.com.  See what equipment the pro's are using and read what the reporters have to say about recent matches and much more
Get Fit Deals: